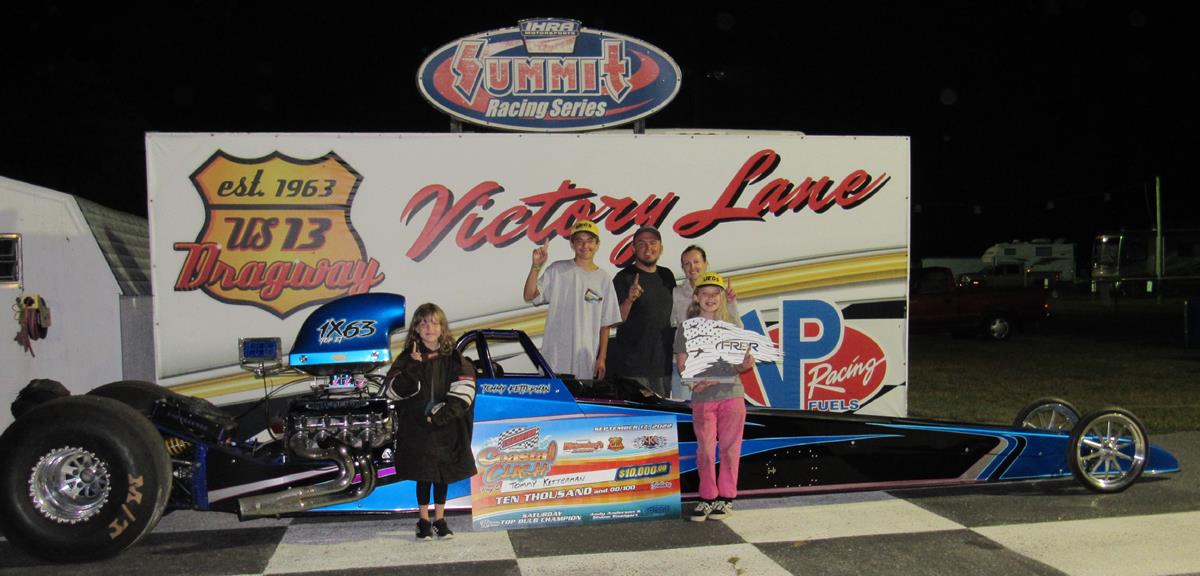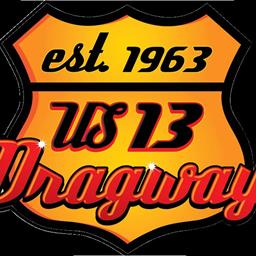 ---
Coastal Clash Recap
These past two weekends have been unbelievable. Unbelievable in so many ways!
TOP $10K - Brad Northrop
MOD $5K - Matt Ricchezza
JR $1K - Paisley Anderson Let's start with last weekends "Jerry Ketterman's Super Bad 8 & $5K" Top ET rolled into the track. First, Jerry Ketterman THANK YOU for all the time and effort you put into this race! The track, racers and fans thank you!
We posted up our first 64 car Shoot-Out, $5K to win in the Crouch Automotive Top ET. Not only did we fill it but had 4 alternates to boot! Then on Saturday, 171 Top ET cars filled the property for a record attendance! Jerry's Bad 8 did not disappoint and the Bad to the Bone was one to remember! Once again, mother nature did a rain dance on our efforts, not allowing us to finish, getting down to 29 cars in Top. She kept her rain dance going throughout the day on Sunday to wash out the 16th Annual Fast Ford Sunday program. (It has been rescheduled for Sunday, October 30.)
This led us into the past weekend and the 2nd Annual Champion Hi Tech Lubricants Coastal Clash presented by Blittersdorf Automotive. Thursday, we parked over 100 teams to prepare for Friday's Day one start. Day 1 of the Clash had 112 Top Bulb, 100 No-Box and 20 Jr. Dragsters. The track was on point, and we thank everyone for the compliments on our efforts!
With the Clash flyer stating a 150-car minimum, Andy & Sam Anderson along with my wife Denise and I made the decision to payout the full purses even though we fell way short of the 150 minimums needed. This led to over $24,000 in purse paid out for the efforts of the racers who came out in support. Diamond State Digital offered great coverage all day and finished the race program up with some nice Victory Lane interviews. The night ended with the always popular "Pit Vehicle Race" with 103 entries and finishing at 2:30 am!
Day two started at 6:45am with our good friend Tommy Elliott and I using that new awesome Total Venue Concepts Track Scraper! We knew how much track prep is for one of these events and we did not want to disappoint and keep the traction on point again. Much to our despair, the "SandBox" did not play well with others. Saturday the car counts increased over 100+ entries moving Top Bulb to 159, No-Box 146 & Jr Dragsters 30, with full payouts going to each class. Diamond State Digital provided great coverage and Victory Lane Interviews with the Day 2 winners.
Friday winners:
Dave Keyton - TOP $10K
Shannon Fordyce MOD ET $5K
Paisley Anderson JR $1K
Saturday Winners:
TOP $10K - Tommy Ketterman
MOD ET $5K - Soggy Dunn
MOD SHOOTOUT $2500 - Trish Witt
JR DRAGSTER $1K - Nyck Shirkey
JR SHOOTOUT $700 - Mikey Ulrich
Sunday Winners:
TOP $10K - Brad Northrop
MOD $5K - Matt Ricchezza
JR $1K - Paisley Anderson
The final countdown day came on Sunday with 132 Top Bulb, 122 NoBox and 29 Jr. Dragster entries looking for those Big Checks and beautiful FRBR Custom Trophies.
A lot of hours were put in by our track crew and we can't thank them enough for all their efforts and hard work!! Please help us say THANK YOU!
Employees:
Shawn "Pee Wee Morris," Dawn Cox, Jeff Richardson, Vicky Ennis, Debbie Elliott, April Ennis, Angela & Frank McGraw, Jerry Ketterman, Wayne Hummer, Glen Lathbury, Doug Milner, Frank Lecates, Ernie Carbaugh, Michael Jefferson, Debbie Trice, Annette Cottman, Ronnie Bishop, Ashley Layfield, Diane Carey, Mike Harr and Robine & Jason Reese.
Food Vendors:
The Hook Up
Sandy's Doggone Good Eats
Steel Kitchen
2nd to None
Jess Ice cream & Snowballs
FRBR Promotions
Additional thanks to: Dave Keyton, Norman Dupont, Ray Estep, Jason Overstreet, Tripp Clough, Sterling Clough, Williams Towing and Diamond State Digital (Chad Cathell, Wayne Scooter, Wayne Smith) for your assistance this past weekend.
Now to GET BUSY this weekend for the Shore Showdown with 410 Grudge Dreams & Big Fred Productions!!
Thank you all!
SDM PROMOTIONS
---
Submitted By: Laura Truitt
Article Media
Back to News