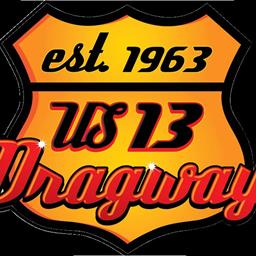 ---
Garnett Takes Mod Win on Last Day of Points
Sunday was the first Sunday back to U. S. 13 Dragway and the last day for IHRA Summit Points.
Ben Garnett took the win in Mod ET, Alex Bradford with the win in Top ET, Rahiem Gladney took the win in OBHF Pro Bike and the Street Elminator win went to Bill Bradford. Zachary Cordrey took the top spot in Hot Rod and while Jonathan Henry won in the Jr.Dragster class. 
Top ET: Alex Bradford took the win over Eddie Savage by running a 4.91 on a 4.90 dial.
Mod ET:
Ben Garnett ran a 5.89 on a 5.87 dial to win over Buddy Layfield.
OBHF Pro Bike: Raheim Gladney tooo the win over Jay Manuel by running a 8.84 on a 8.82 dial.
Street Eliminator: Bill Bradford took the win over Robert Bowden after Bowden dropped red. 

Hot Rod: Zachary Cordery took the win over Cody Guetner by running a 11.48 on a 11.39 dial. 

Jr. Dragster: Jonathan Henry took the win against Braxton Hazzard by running a 8.02 on a 8.01 dial. 

The next event is this Wednesday night as the track will host a Test & Tune and a Streetcar Showdown. If you have any questions please call the office Monday-Friday,  8-4pm, at 302-846-3911.
Back to News