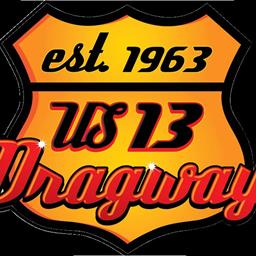 ---
Harrison Wins Top ET on Super Chevy Sunday
It was an event full weekend at U. S. 13 Dragway with the Raymond E. Townsend III Jr. Dragster memorial race being held on Saturday, higher payouts for Top and Mod ET on both Saturday and Sunday and the annual William and Juanita Super Chevy Show on Sunday. 
Unfortunately the weather found the track on Saturday forcing the races to end after 1st round. Purses were split with remaining round winners and the Jr. Dragster class bonuses would happen on Sunday to make sure a winner was crowned. 
Top ET: Joey Harrison 
Mod ET: Jacob Bowie
OBHF Pro Bike: Marquise Blake 
Street Eliminator: Greg Eichhorn Jr
Hot Rod: Ed Tull
Jr. Dragster: Braydon Hazzard - this is his 3rd win in a row and the winner of the Raymond E. Townsend Jr. Dragster Memorial race. 
The next event will be September 5th, 2021. This will be the last IHRA points day. 
If you have any questions please call the speedway office at 302-846-3911. 
Back to News