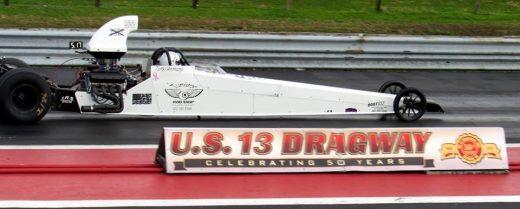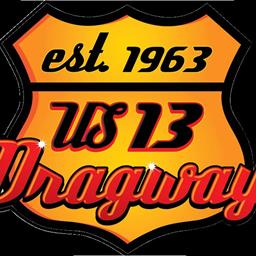 ---
TONY PAVONE LIKES U.S. 13 EXTENDED SEASON, SCORES FIRST WIN IN TOP ET
Delmar, DE – Unseasonably warm weather prompted the U.S. 13 Dragway to extend its 2017 season. Although only Saturday of the two-day event got in due to misty weather canceling Sunday, Saturday's event allowed Tony Pavone of Seaford, Del. to score his first win in Top ET. Russ Archer of Preston, Md. drove to the win in Mod ET while D.J. Lockwood of Berlin, Md. rode to the win in Pro Bike. Other winners of the day included: Michael Jefferson of Parsonsburg, Md. in Street; Stephanie Valdivia of Pittsvile, Md. in Hot Rod; Chase Huber of Queen Anne, Md. in Jr. Dragster 1 and Brett Holston of Felton, Del. in Jr. Dragster 2.
Pavone drove his '00 Mullis Dragster into the Top ET final against Russ Archer in his Dodge Wagon. The two one-hundredths advantage by Pavone at the start and his run of 5.144/132.00 on a 5.14 dial-in sealed the win. Archer was on his dial running a 7.726/87.35 on a 7.72 dial. Semi-finalist was Tommy Ketterman who lost to Archer while Pavone had the bye. Pavone picked up $1300 for the win and Archer collected a cool $1000 for being the runner-up.
Archer was doing double duty on Saturday and found himself in the Mod ET final against Ryan Groton of Laurel, Del. in his '78 Malibu. The pair were even at the start with Archer taking the double breakout win running a 7.728/87.45 on a 7.73 dial. Groton was out by a fraction more running a 6.825/98.79 on a 6.83 dial. Archer picked up an additional $1050 while Groton earned $1000 as the runner-up. Semi-finalists were David Hornsby who lost to Groton and Robin Lewers who lost to Archer.
D.J. Lockwood rode up against Gary Davis in the all-Kawasaki Pro Bike final. Davis had a -.014 red light foul and Lockwood blasted an 8.625/155.35 on an 8.60 dial for the win. Semi-finalists were Turon Davis who lost to Lockwood and Harvey Powell who lost to Davis.
2017 Street Eliminator Champion, Michael Jefferson remained in winning form taking the win in the Street final. Jefferson had a .002 reaction light against Gary Stickles and then ran an 11.338/112.85 on an 11.33 dial. Stickles had a 13.407/98.17 on a 13.37 dial.
The Hot Rod final went to Stephanie Valdivia over Frank Parks. In the double breakout final Valdivia had a 10.602/124.94 on a 10.61 dial while Farks ran an 11.351/109.64 on an 11.45 dial.
In Jr. Dragster 1 it was Chase Huber over Cole Foskey. Huber had the better start and ran was on his dial with an 11.978/56.29 on an 11.97 for the win. Foskey broke out with an 11.940/53.44 on an 11.95 dial. In Jr. Dragster 2 it was Brett Holston over Cody Drummond. Holston took the win by a mere .007 of a second running a 7.982/82.68 on a 7.98. Drummond ran an 8.001/81.68 on an 8.00 dial.
The 2017 Footbrake Nationals have been rescheduled for this Saturday, October 11th weather permitting. Gates open at 9 a.m.
Back to News