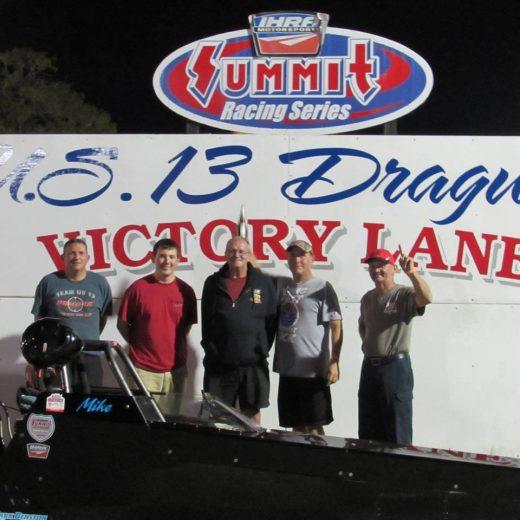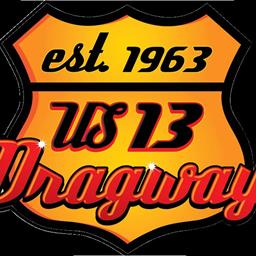 ---
MIKE JONES FINISHES OUT DREAM SEASON WITH HALLOWEEN SHOOTOUT WIN
DELMAR, DE – It was a near perfect end to the 2016 season for Sunday's day two of the Halloween Shootout at the U.S. 13 Dragway. A great field of cars and bikes were on hand under a blue sky and summertime temperatures. Mike Jones of Salisbury, Md. put an asterisk on a dream season and his 2016 championship by taking the $2000 Top ET final. Jime Williams of Seaford, Del. collected the $1500 Mod ET winner's cash and James Farmer of Milford, Del. rode home to the win in Pro Bike worth $500 plus the Outten Bros "Bonus Cash�. Other winners on the day included: Ryan Groton of Laurel, Del. in Street; Bruce Alexander of Delmar, Md. in Hot Rod; Mike Larkin of Salisbury in the High Roller Dragster; Keith Riddle of Millsboro, Del. in Jr. Dragster 1 and Dacia Powell of Mardela Springs, Md. in Jr. Dragster 2.
Once again Carolyn "Blondie� Parsons provided $50 bonuses to the winners in the money classes showing their support for breast cancer awareness with the pink ribbon symbol.
It was an all-dragster final in Top ET with Mike Jones taking on Steven Boone. Boone broke out with a blistering 7.220/184.88 on a 7.23 dial. Jones had the better reaction and was on his dial winning with a 7.562/170.13 on a 7.55 dial. Semi-finalists were Saturday's winner Horace Willey who lost to Boone and Austin Powell who lost to Jones.
The Mod ET final was a battle by two competitors who had battled all season long – Jim Williams in his '69 Camaro and Daryl Beauchamp in his Z28 Camaro. Beauchamp had the better reaction light but was just a tick too quick breaking out with a 9.658/132.00 on a 9.66 dial. The win went to Williams with a solid 9.285/147.15 on a 9.27 dial. Semi-finalists were Marcus Wongus who lost to Williams and Kevin Yates who lost to Beauchamp.
The Pro Bike final was between two very quick bikes ridden by James Farmer and Deltez Davis. Davis left early and fouled but made a full pass at 155.19. Farmer made a full pass after seeing the win light come on and ran an 8.553/152.69 on an 8.60 dial. Semi-finalists were Jason Taylor who lost to Davis and Thomas Graves who lost to Farmer.
Ryan Groton had a big advantage with his .028 reaction light at the start of the Street Eliminator final and took the win over Robin Lewers. Groton had an 11.663/104.46 on an 11.60 dial while Lewers ran a 12.323/103.19 on a 12.28 dial.
Bruce Alexander was late at the start of the Hot Rod final but when David Holland broke out he was still able to take the win. Alexander had a 14.261/92.55 on a 14.17 dial. Holland broke out with a 10.666/126.74 on a 10.67 dial.
The Jr. Dragster finals were repeat match ups from Saturday. In Jr. 1, Keith Riddle took the double breakout win over Caitlyn Hooper to sweep the weekend. Riddle had a 7.962/81.47 on a 7.98 dial. Hooper was out by more with an 8.959/70.57 on an 8.99 dial. It was the same pair as Saturday in the Jr. 2 final but with the opposite result. Dacia Powell was paired with Alexis Truitt and it was another double breakout only this time Powell got the win running a 7.988/82.91 on a 7.99 dial. Truitt had a 7.948/83.44 on a 7.95 dial.
Four dragster entered the Winner Take All Shootout. Taking home the $1000 was Mike Larkin over Wayne Patton. It was a Pro Tree and eighth-mile with Larkin running a 4.457/154.85 for the win. Patton had a 4.468/156.46.
Back to News