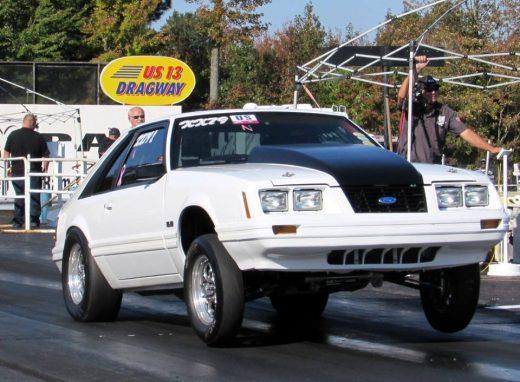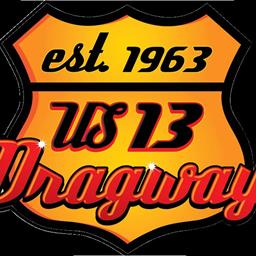 ---
TIM FOSKEY, JR. CAPTURES FOOTBRAKE NATIONALS SUNDAY AT U.S. 13
DELMAR, DE – The rescheduled Footbrake Nationals and MoPar Muscle Sunday took place at the U.S. 13 Dragway this past weekend. The Footbrake division prohibits the use of electronics by the racers and puts all of the emphasis on the skill of the driver. It should have come as no surprise to anyone that the winner of Sunday's event turned out to be 2015 and 2016 Mod ET point champion Tim Foskey, Jr. of Rhodesdale, Md.
Taking the Combo Eliminator final which does allow electronics was multi-time Top ET champion, Sterling Clough of Marion, Md. and riding to the win in Pro Bike was 2016 champion Harvey Powell of Felton, Del. Other winners on the day included: Jay Parrott of Delmar in Street Eliminator; Wayne Phippin of Laurel, Del. in Hot Rod; Cody Drummond of Laurel in Jr. Dragster 1 and Jacob Bowie of Greensboro, Md. in Jr. Dragster 2.
Foskey, Jr. in his '84 Mustang faced Brice Cornish in his '68 Chevy II in the Footbrake final. Foskey took the win with a .024 reaction light and a run of 9.554/138.65 on a 9.53 dial. Cornish broke out with a .038 light and a run of 10.976/120.41 on a 10.99 dial. Semi-finalist was Jim Williams who lost to Foskey while Cornish had the bye.
Veterans Sterling Clough and Bill Groton squared off in the Combo final. Clough had a .017 reaction time and ran an 8.660/151.64 on an 8.62 for the win. Groton had a .050 reaction and ran a 10.171/131.11 on a 10.13 dial. Semi-finalists were W.J. Revel who lost to Clough and Jamie Russell who lost to Groton.
Two of the best in the business, Harvey Powell and James Farmer faced off in the Pro Bike final. Farmer had the better reaction but could not catch Powell who took the victory with a 9.077/140.64 on a 9.05 dial. Farmer ran an 8.571/148.83 on an 8.49 dial. Semi-finalist was Jalen Mumford who lost to Farmer while Powell had the bye.
Jay Parrott, III in his '85 Monte Carlo defeated Josh Davis in his '77 AMC Pacer in the Street Eliminator final. Parrott took the double breakout win with a 14.389/95.69 on a 14.40 dial. Davis was out by more with a 12.012/110.15 on a 12.06 dial.
In Hot Rod Trophy it was Wayne Phippin in his '80 Monte Carlo over Sara Davis in her Camaro. Davis had a .005 reaction but was off her dial enough for Phippin to drive by for the win. Phippin ran an 11.534/108.14 on an 11.50 dial while Davis had a 12.095/110.64 on an 11.99 dial.
In Jr. Dragster 1 action Cody Drummond was paired against Reece Hales in the final. Drummond was on his dial and took the win with an 8.797/71.28 on an 8.79 dial. Hales ran an 8.988/71.20 on an 8.93 dial. In Jr. Dragster 2 it was a rematch for co-champions Jacob Bowie and Alexis Truitt. The last time the pair faced each other Truitt took the win but Bowie took the honors this time running an 8.023/80.29 on a 7.99 dial for the win. Truitt was slightly slower at the start and her 7.959/83.25 on a 7.94 dial was not enough.
There will be no drag racing this Sunday as the racers from U.S. 13 travel to the Mason Dixon Dragway in Hagerstown, Md. for the SBRA Bracket finals. Action returns on Oct. 29th & 30th for the two day Halloween Shoot Out Bracket Bash.
Back to News