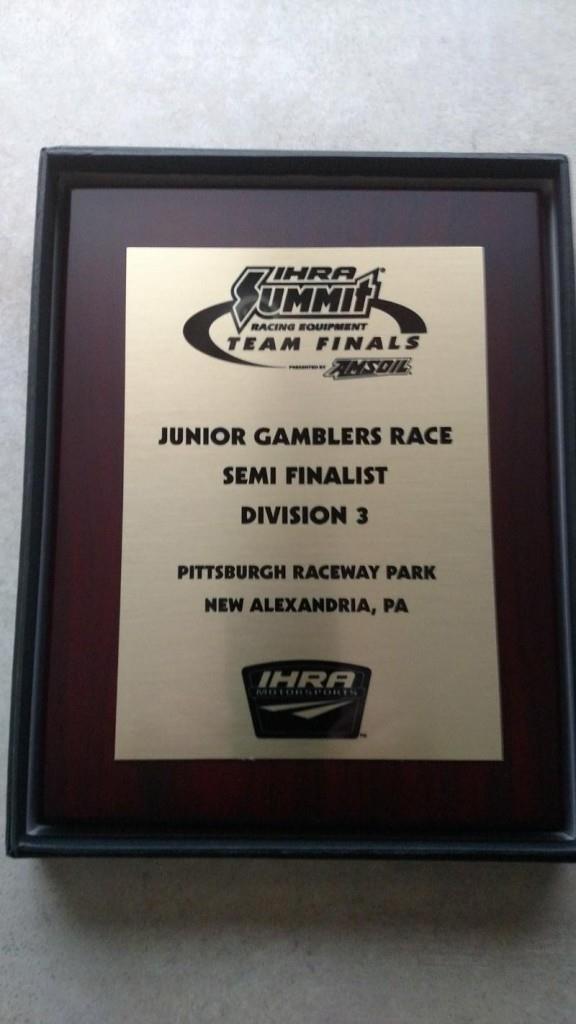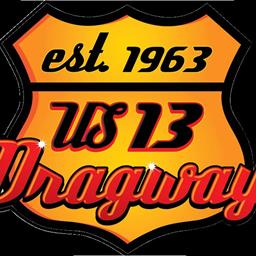 ---
TEAM U.S. 13 MAKES FIRST APPEARANCE TO IHRA SUMMIT TEAM FINALS
Last weekend, 26 racers from U.S. 13 Dragway ventured up, to Pittsburgh Raceway Park in New Holland, Pennsylvania, for the 2015 IHRA Summit Team Finals. The event began on Thursday October 28 and ran through Saturday October 31, featuring the Summit Team Bracket Finals Saturday. On Thursdays gamblers races, Laura Landry, started her weekend off in great fashion, making it down to 8 cars in Top Eliminator category. Track officials made a decision to stop competition  after the forth round parings, due to the cold temperatures and rising humidity. Other racers having a good day were, Mark Cathell 4th rd Top and Kody Mariner making it all the way to Semi-Finalist in the Junior category.
Friday, Team US 13 kept rolling along with the second gamblers race being held. Michael aka "Snap" Nahil led the team advancing the furthest in Top going 5 rounds.  Johnny Ennis lasted four rounds in Top, while the girls Veanetta Ennis and Laura Landry made it to third round. Tim Foskey was also on a roll in Mod, advancing to the 4th round. Our Jr. boys flexed their muscles Friday with all 3 advancing to the 4th rd and again Kody Mariner made it to the Semi-Finals.
At Saturdays main event, the day began on several positive notes. First, Track owner Charlie Cathell, made it to the finals in the Track Operators race. Cathell received the runner-up position, falling to Pittsburgh's Raceway Park on a double breakout run. The IHRA then handed out their specialty awards to those racers in attendance for the weekend. Two U.S. 13 racers received top honors in the the Best Engineered and Best Appearing Classes. Laura Landry, received the Best Engineered Full body car award, with her 66 Chevelle. Veanetta Ennis then took home the Best Appearing Open Wheel car with her newly purchased Dragster. Team U.S. 13 Dragway also won the IHRA BEST TEAM SPIRIT award with only half of our original roster and four teams who were suppose to attend but did not make the trip.
First round, Team U.S. 13 started out strong having several teams advance past round one. In rounds two and three, we only had a couple racers advance, keeping Team13 in 6th place in the points standings. In Top, Doug Milner and Veanetta Ennis both made it to round four, were they would see their chances for a win, come to an end. This left 2015 Mod/Pro Champion Tim Foskey, as the last man still standing for Team13, heading into round number 5. That round, Foskey had the light advantage on his opponent, but the double breakout run was not enough for Foskey to advance.
As the day came to an end, our team held their heads high and gathered for one last time for the 2015 season in the team camp. When the final points tallies were announced, Team 13 placed 6th out of 10 tracks, again with only 26 members making the trip.
From the Cathell family and entire staff of the U.S. 13 Dragway, we want to say, THANK YOU to all the teams, drivers, crews and fans who came out in support all season long. Don't forget, our 2015 Annual Awards Banquet will be held on Friday January 22, at the Dover Downs Casino and Conference Center in Dover DE., contact Vicky Ennis at the track office, to reserve you tickets.
Back to News