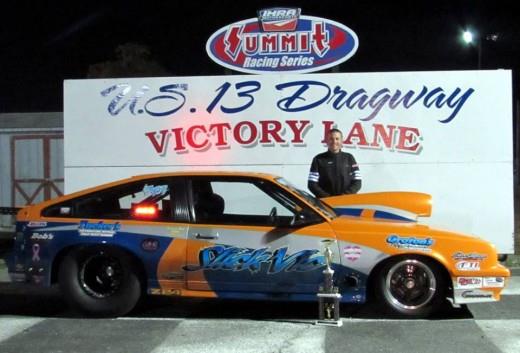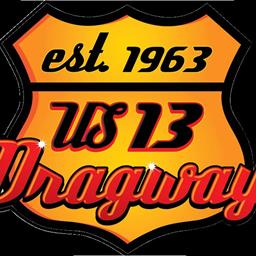 ---
VIC GORDY TAKES 2015 TOP ELIMINATOR FINALE SUNDAY
By Charlie Brown, Delmar, DE – The U.S. 13 Dragway wrapped up the 2015 season on Sunday with day two of the two day Halloween Shootout. Vic Gordy of Harbeson, Del. waited to the final race of the season to notch the $2000 to win in Top Eliminator. Roger Ridgeway, Jr. of Dover, Del. drove away with $1500 and the win in Pro while Ash Hayward of Fruitland, Md. rode to the win in Pro Bike. Other winners on the final day included: Ryan Groton of Laurel, Del. in Street; Dennis Davis of Laurel in Hot Rod; Cody Drummond of Laurel in Jr. Dragster 1 and Alex Bradford of Newark, Md. in Jr. Dragster 2.
Vic Gordy in his '87 Cavalier faced Tommy Ketterman of Salisbury, Md. in his '91 Camaro in the Top Eliminator final. Gordy had a great .008 reaction light and drove to the win with a 9.555/108.93 on a 9.19 dial. Ketterman slowed and was off his dial with 13.019/67.26 on a 9.16 dial. Semi-finalist was Frank Lecates who lost to Ketterman while Gordy had the bye.
Roger Ridgeway, Jr. in his '80 Mustang took on Robin Lewers of Pocomoke, Md. in a '71 GMC in the Pro final. Lewers had a -.015 red light and Ridgeway rolled to the win with a 10.070/133.72 on a 10.05 dial. Semi-finalists were Jim Williams who lost to Ridgeway and Saturday's winner, Kevin Yates who lost to Lewers.
Ash Hayward pulled the upset in the Pro Bike final defeating defending champion James Farmer of Milford, Del. The pair were even at the starting line but Farmer broke out with an 8.535/141.28 on an 8.55.dial. Hayward was on his dial running a 9.117/151.51 on a 9.11 dial-in. Semi-finalists were David Granados who lost to Hayward and Robert Brummell who lost to Farmer.
Ryan Groton, who had won in both Pro and Hot Rod, scored his first win of the season in Street on Sunday in his '78 Camaro. Groton went up against 2015 point champ, Josh Davis in his '77 Pacer in the final. Davis had the better reaction time but broke out with a 12.137/106.85 on a 12.16 dial. Groton was on his dial running a 12.004/97.17 on a 12.00 dial.
In Hot Rod it was Dennis Davis getting his second win in his last three outings over two time winner, Billy McLamb of Mardela Springs, Md in the all-Camaro final. McLamb had a -.013 red light and Davis drove to the win with an 11.685/113.47 on an 11.64 dial.
Cody Drummond swept the weekend in Jr. Dragster 1 picking up his fifth win of the season. It was a double breakout final with Brett Holston out the most running an 8.809/72.83 on an 8.90 dial. Drummond dialed an 8.95 and ran an 8.897/70.62.
The Jr. Dragster 2 final was a repeat of Saturday's final but the results were switched. Alex Bradford faced Dacia Powell for the second time on the weekend but this time it was Bradford taking the win with an 8.018/79.07 on a 7.98 dial. Powell ran her dial-in but was too late at the start and lost with a 7.963/82.96 on a 7.96 dial. It was Bradford's fifth win to end the year.
Back to News