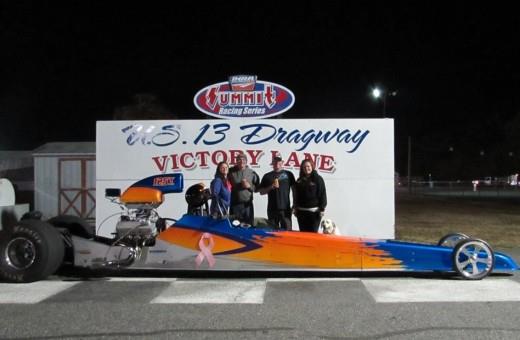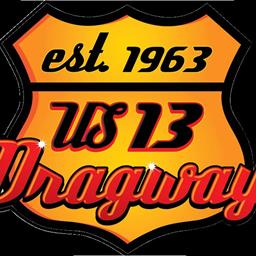 ---
INVADER MICHAEL NAHILL WINS TOP ON DAY ONE OF THE HALLOWEEN SHOOTOUT
By Charlie Brown, Delmar, DE – It was a beautiful Fall day for day one of the two day Halloween Shootout at the U.S. 13 Dragway. Invader Michael Nahill of Atco, N.J. picked up the $1500 winner's share in Top Eliminator while Kevin Yates of Odenton, Md. headed the Pro field earning $1000. Other winners on the day included: Harvey Powell of Felton, Del. in Pro Bike; Michael Jefferson of Parsonsburg, Md. in Street; Ryan Lecates of Salisbury, Md. in Hot Rod; Cody Drummond of Laurel, Del. in Jr. Dragster 1; Dacia Powell of Mardela Springs, Md. in Jr. Dragster 2 and Danny Clark of Frankford in The List grudge racing.
Michael Nahill in his dragster went up against veteran racer Rex Lilley of Laurel, Del. in the Top Eliminator final. Nahill's .009 reaction time made the difference as he took the win with a 7.571/168.13 on a 7.53 dial. Lilley had a .025 light and ran an 8.665/154.90 on an 8.61 dial in his '88 Mustang. Semi-finalists were Phillip Truitt who lost to Lilley and Chad Cathell who lost to Nahill.
Kevin Yates made it to the Pro final for the seccond time this season in his '78 Ford facing Charlie Dehaven in his '78 Malibu. Dehaven's car had problems on the starting line and Yates took the easy win with a 10.182/102.44 on a 9.53 dial. Semi-finalist was Brent Cannon who lost to Dehaven while Yates had the bye.
Harvey Powell rode away with the $500 winner's share in the Pro Bike final by defeating Irvin Bonneville. Bonneville had the better reaction but was off his dial running a 9.453/144.06 on a 9.20 dial. Powell notched his third win of the year with a 9.038/127.29 on an 8.97 dial. Semi-finalist was Turon Davis who lost to Bonneville while Powell had the bye run.
In the Street final it was Michael Jefferson taking his third win of 2015 worth $500 as he defeated Robin Lewers who red lighted in the final. Jefferson ran a 12.718/102.55 on a 12.74 in his Nova. In Hot Rod it was Ryan Lecates with his third win over Mike Shannahan. Lecates had a .013 reaction light and ran an 11.494/104.49 on an 11.48 for the win while Shannahan had an 11.623/112.96 on an 11.51 dial.
Cody Drummond picked up his fourth win this season defeating Nyck Shirkey in the Jr. Dragster 1 final. Shirkey left too early and fouled and Drummond ran an 8.862/72.72 on an 8.90 dial for the win. In Jr. Dragster 2 it was Dacia Powell earning her third win of the year over Alex Bradford. Alex left too early and fouled and Powell ran a 7.959/82.75 on a 7.91 dial for the win.
"The List� racers were on hand on Saturday. In the finals it was Danny Clark in his Chevy II over Lewis Jones in his '87 Chevy S-10. Antione Jones lost to Clark in the Semi-finals and Craig Walls lost to Jones.
Back to News