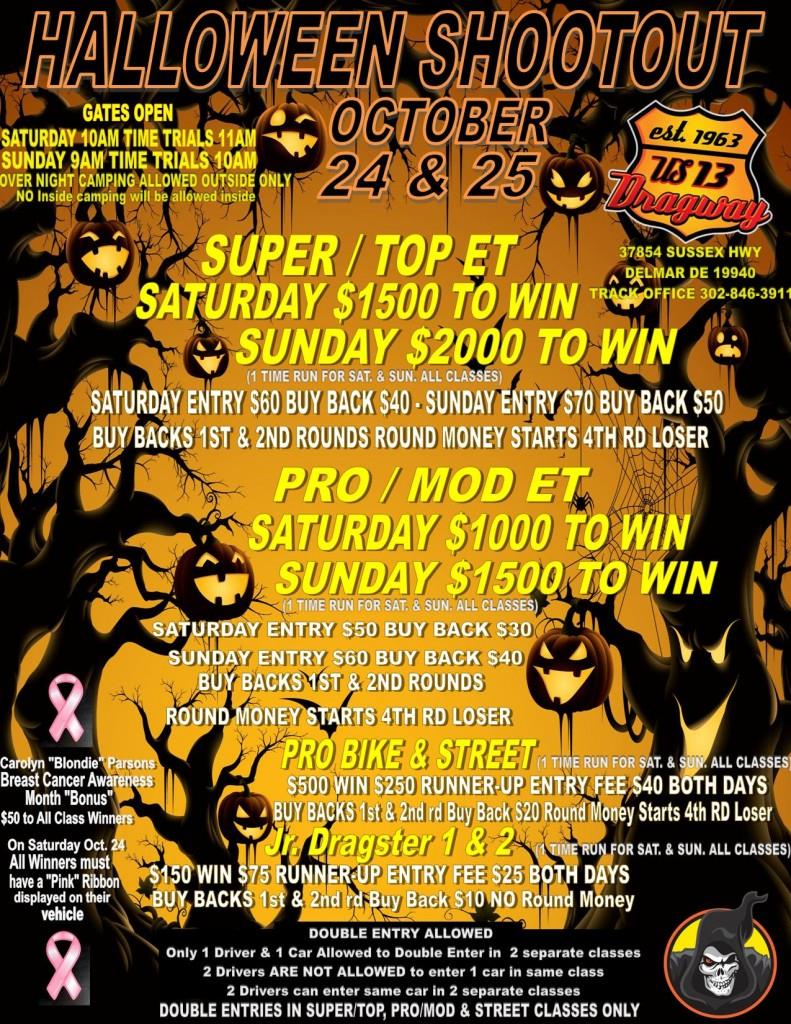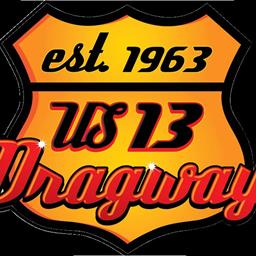 ---
THIS WEEKEND 2 BIG SHOWS TO END THE 2015 SEASON "HALLOWEEN SHOOTOUT & GRUDGEMENT WEEKEND AT THE U.S. 13 DRAGWAY
This weekend drag racing fans will get their final look at the quarter mile. The "Halloween Shootout" marks the end of the bracket racing season in Delaware. Saturday will feature $1500 to win Top/Super ET eliminator and $1000 to win Pro/Mod eliminator purse. We will also host our other divisions of Pro Bike and Street racers will compete for $500 to win and Hot Rod winner will try for that huge 3 foot trophy in their eliminator. The kids of the Jr. Dragster world will have their shot at some cash as well, as they purse will pay the winner in each class $150 to win.
Also on Saturday, the "Boyz of the 302," will be back in action for the 2nd Cash Day of the season. Any and All List competitors whether currently on the LIST or have competed to be on the LIST, will be eligible for this race! "Off the Trailer," ladder style draw, will put the fastest LIST grudge cars against one another. It is a winner take all race of cash and bragging rights for the LIST.
On Sunday we will be back, as the stakes will be raised! Super/Top will pay $2000 to the winner and our Pro/Mod category will run for $1500 to win. Again our Pro Bike and Street entries will try to take home the $500 to win purse and our Jr. Dragster drivers will compete for $150 to win each class. For the first time this season, we will host "Grudgement Day," racers have asked for it and now we will deliver. We will designate one lane to be run with each round of eliminations. Drivers will line up their grudge races, this will be 1/4 mile, heads up, .400 Pro tree with NO TIMES on the scoreboards. It's grudge racing at it's BEST and only at the U.S. 13 Dragway. The cost will be $20 for the grudge lane and must be paid in the tower, before the start of eliminations.
Then the FINAL LIST Race of the season. The Top 10 racers who still remain on the LIST will "Compete to Complete" the top 10 standings. We will run the Top 5 together for a final shot at number 1, which is currently held by Lewis Jones in his S-10 pick called "2Barrell." We will run the "Final 5" off to determine places 6th - 10th place. If time permits, we will place the challenge out if #1 would like to run #6 for bragging rights. Is the Top 5 faster then the Final 5, we might just have the chance to find out. (This race will be run if time permits and weather conditions are suitable to run) Who will be #1 at the end of the day? You will have to be here to see it for yourself!
We will allow double entry in two different classes this weekend. One car can be driven by one drive in two separate classes. One car can also be driven by two drivers in two separate classes. We will not allow double entries in the same category. Entry fees for Super/Top, Sat. $60 with $40 Buy back, with 1st & 2nd round buy back being offered. In Pro/Mod Sat. entry will be $50 with $30 Buy back, with 1st & 2nd rounds being offered as well. For our Pro Bike and Street eliminator, entry for Sat. and Sun. will be $40 each day with Buy backs at $20 each of those days, we will also allow Buy backs 1st & 2nd round. Junior Dragster entries will be $25 each day with Buy backs being offered 1st & 2nd rounds at $10 each day.
Gates open on Saturday at 10am, One time shot session begins at 11 am with the "CASH DAY II" Off the trailer race to follow time runs. General Admission is just $12 with children 13 and under admitted free with a paying adult. On Sunday, gates will open at 9am, time run session to begin at 10 am with eliminations to follow. General admission will again be just $12 with children 13 and under free with a paying adult.
Back to News