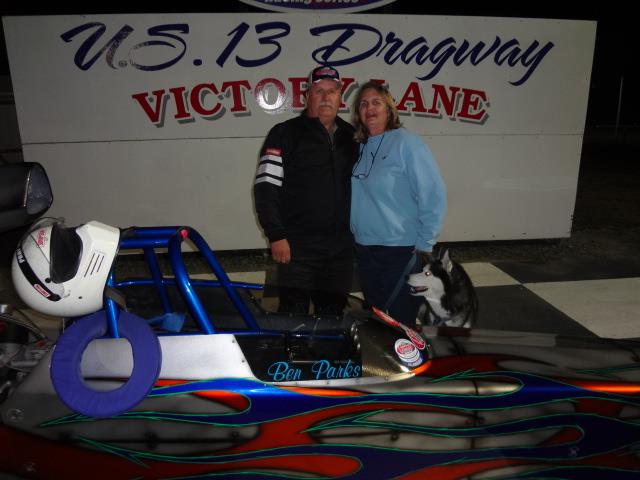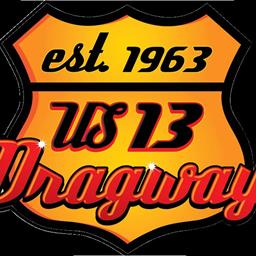 ---
BEN PARKS CLOSES OUT U.S. 13 SEASON WITH HALLOWEEN SHOOTOUT WIN
By Charlie Brown, Delmar, DE – Day two of the two-day Halloween Shootout Sunday at the U.S. 13 Dragway was a full day of racing to bring an end to the 2014 season. Salisbury, Md.'s Ben Parks was in top form as he captured the Super Pro final for a nice payday. Daryl Beauchamp took the win in Pro and Drew Birch of Whaleyville, Md. rode to the win in Pro Bike. Other winners on the day included: Josh Davis of Seaford, Del. in Street; Joe Schwartz of Winter Park, Fla. In Hot Rod; Nick Shirkey of Ridgely, Md. in Jr. Dragster 1 and Kody Mariner of Salisbury in Jr. Dragster 2.
It was Salisbury racers Ben Parks in a dragster and David Lowe in his '91 Firebird in the Super Pro final. Parks drove to the win with a .009 reaction and a run of 7.824/159.54 on a 7.79 dial. Lowe broke out running an 8.842/149.85 on an 8.86 dial. Semi-finalists were Mike Larkin who lost to Lowe and Bobby Insley who broke before running Parks.
The Pro final paired Daryl Beauchamp in his Chevy S-10 pickup against Cecil County Dragway regular, Kevin Yates of Odenton, Md. in his nine second '78 Ford. Beauchamp took the win with a 10.293/126.77 on a 10.28 dial while Yates broke out with a 9.613/130.89 on a 9.63 dial. Semi-finalist was Marcus Wongus of Rhodesdale, Md. who lost to Beauchamp while Yates had the bye.
Drew Birch faced Anthony Buckson of Smyrna, Del.  in the Pro Bike  final. The pair had identical .025 reaction times and ran the same amount over their dials with Birch taking the win by an amazing .0007 seconds with an 8.951/154.63 on an 8.94 dial. Buckson, who had arrived late and didn't even get a time run, ran a 9..141/136.36 on a 9.15 dial. Semi-finalists were Harvey Powell of Parsonsburg, Md. who lost to Birch and Gavin Cromwell of Cambridge, Md. who lost to Buckson. Eddie Chapman set a record low E.T. with a 7.791 on Friday night then on Sunday set a record Top Speed at 193.34 mph!
The Street final was a family affair with Josh Davis in his '77 Pacer taking on Sara Davis in her '71 Camaro. For fun the pair dialed identical 19.99 dial-ins with Josh breaking out by less with a 14.432 and Sara getting the runner-up with a 13.943. Semi-finalist was Robin Lewers of Pocomoke, Md. who lost to Sara Davis.
Joe Schwartz drove his '72 Nova to the win in Hot Rod Trophy over Henry Osowiecki of Mardela, Md. in his Chevy S-10. Osowiecki left early and fouled and Schwartz ran a 12.273/109.07 on a 12.31 for the win.
For the second day In a row Nyck Shirkey faced Caitlyn Hooper of Hurlock, Md. in the Jr. Dragster 1 final. Hooper broke out with an 11.938/57.22 on an 11.94 and Shirkey posted his second straight win running on his dial with an 8.982/71.26 on an 8.98 dial. In Jr. Dragster 2, Â Kody Mariner met Cortney Cathell of Laurel. Mariner scored the victory with an 8.007/77.98 on a 7.96 dial. Cathell ran a 7.957/82.28 on a 7.90 dial.
Back to News