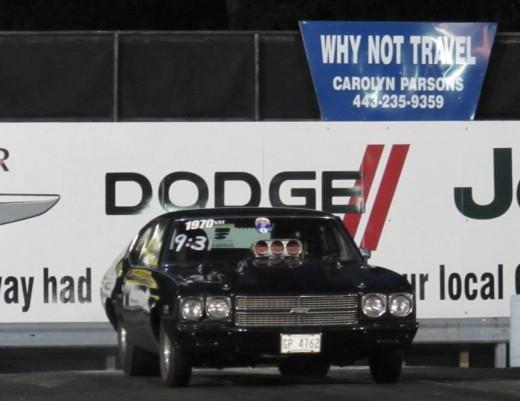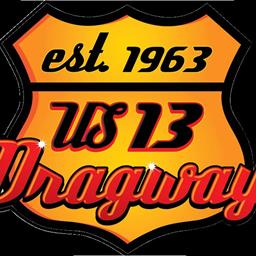 ---
JAY GLASGOW CAPTURES FOOT BRAKE NATIONALS AT U.S. 13 SUNDAY
By Charlie Brown, Delmar, DE – The Foot Brake Nationals at the U.S. 13 Dragway are an annual event for bragging rights was to who is the best driver without the assistance of on-board electronics. Coming out on top Sunday was Jay Glasgow of Salisbury, Md. in his '70 Chevelle. Steven Truitt of Parsonsburg, Md. captured the Combo Eliminator final and James Farmer of Denton, Md. once again topped Pro Bike. Other winners on the day included: Gavin Truitt of Frankford, Del. in Street; Joel Yates of Delmar in Hot Rod; Pyper Bireley of Salisbury in Jr. Dragster 1 and Dacia Powell of Salisbury in Jr. Dragster 2.
Glasgow, a racer who generally races in the electronics class, faced Glen Isom of New Castle, Del. in his Chevy Blazer in the Foot Brake final. Isom had the better reaction time but broke out with a 9.996 on a 10.00 dial and the win went to Glasgow who ran a 9.327/142.38 on a 9.31 dial-in. Semi-finalist was Robin Lewers of Pocomoke, Md. who lost to Isom whily Glasgow had the bye run.
Steven Truitt was to take on Ben Parks of Salisbury in the Combo final but Parks had mechanical problems in the staging lanes and was unable to start, and allowed for Truitt to make a solo pass for the win with a dead on 9.180/146.24 on a 9.18 dial. Semi-finalists were W.R. Ketterman of Salisbury who lost to Truitt and Mike Jones of Salisbury who lost to Parks.
James Farmer rode up against Brice Cornish, Jr. of Cambridge, Md. in the Pro Bike final. Farmer had a .017 reaction time and rode to the win with an 8.466/132.82 on an 8.34 dial. Cornish had a 10.187/118.71 on a 10.00 dial. Semi-finalists were Marquise Blake of Frankford, Del. who lost to Cornish and Harvey Powell of Parsonsburg who lost to Farmer.
Gavin Truitt in his Chevy S-10 pickup was paired against Shelby Hurley of Mardela, Md. in her '55 Chevy in the Street final. Hurley had the better start but broke out with a 13.381 on a 13.41 dial. Truitt was out by less running an 11.800/111.26 on an 11.81 dial.
Joel Yates won in Hot Rod over Thomas Oakley of Salisbury. Yates, in his '91 Mustang ran a 10.993/111.00 on a 10.96 dial. While Oakley posted a 16.341/85.00 on a 16.29 dial.
Pyper Bireley got into the win column in Jr. Dragster 1 defeating Nyck Shirkey of Ridgely, Md. Bireley had the better start and drove to the win with an 11.942/54.36 on an 11.90 dial. Shirkey had an 8.955/72.16 on an 8.90 dial. In Jr. 2 it was Dacia Powell over Michael Ennis of Delmar. Ennis broke out with a 7.951/80.78 on a 7.96 dial while Powell ran a 7.995/82.31 on a 7.97 dial.
Back to News