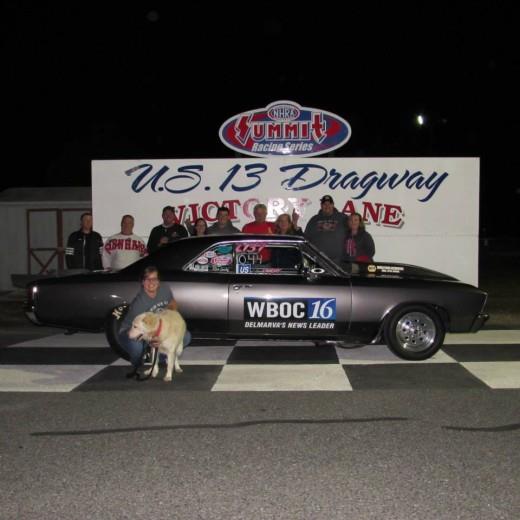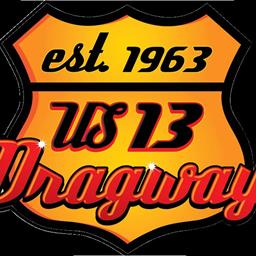 ---
BEN PARKS AND BILLY GROTON SPLIT BAD 8'S VIC GORDY WINS JR. 3 REUNION
By Charlie Brown, Delmar, DE – Cool temperatures and low humidity produced big horsepower Sunday at the U.S. 13 Dragway. Taking the Bad 8 Open Wheel final was Ben Parks of Salisbury, Md. and in the Bad 8 Full Body it was Billy Groton of Seaford, Del. 2013 Point Champion, Laura Landry of Townsend, Del. won the Super Pro final, with Jay Parrott, III of Salisbury taking Pro and Harvey Powell of Parsonsburg, Md. winning in Pro Bike. Other winners on the day included: Josh Davis of Seaford in Street; Henry Osowiecki of Mardela, Md. in Hot Rod; Brittany Hooper of Hurlock, Md. in Jr. Dragster 1; Ryan Jackson of Newark, Md. in Jr. Dragster 2 and Vic Gordy of Ellendale, Del. in Jr. Dragster 3.
It was a pair of long time competitors from Salisbury, Ben Parks and Frank Lecates, meeting in the Bad 8 Open Wheel final. Parks had a .008 light and went on to the win with a 7.804/168.69 on a 7.79 dial-in. Lecates had a .013 light and ran a 7.883/170.22 on a 7.87. Jimmy Hitchens of Millsboro, Del. was the number one qualifier with Low E.T. at 6.786 and Top Speed at 201.97 mph.
Billy Groton in a '90 Camaro faced the Duster of Kevin Merritt of Chincoteague, Va. in the Bad 8 Full Body final. Once again Groton came out on top with a .006 light and a run of 8.248/158.73 on an 8.24 dial. Merritt had a .016 light and ran an 8.168/165.22 on an 8.16 dial. Low E.T. in qualifying was set by Don Teague of Newark, Del. with a 7.332 in his '98 Camaro and Wayne Patton of Rhodesdale, Md. set Top Speed in his '68 Camaro at 191.53 mph.
Groton advanced to the Super Pro final against Landry. Landry ended his day with a .013 light and a 10.448/128.05 on a 10.44 dial. Groton had a .026 light and broke out with an 8.237/157.42 on an 8.24 dial. Semi-finalists were Paul Riddle of Millsboro who lost to Groton and Danny Bastianelli of Georgetown, Del. who lost to Landry.
The Jr. Dragster 3 Shoot Out for former Jr. Dragster racers was held on Sunday. Drivers who were 21 years of age or older that had previously raced in the Jr. Dragster division culminated at the track to take a step back in time and try their hand at Jr. Drag Racing once again as they had done in their youth. Over 15 Drivers squeezed themselves back into the cars and battled it out for bragging rights and glory for the next 365 days. At the end it was  Vic Gordy of Ellendale, DE, who was the Runner- Up to 2013 Jr. 3 Shoot Out winner Paige Townsend, found himself paired against her boyfriend Chad Cathell of Seaford in the finals this year. The race was decided at the starting line as Cathell left early and fouled, and Gordy took the win running a 7.944/79.72 on a 7.88 dial.
The Pro final matched Jay Parrott, III in his Chevy S-10 against David Hornsby of Delmar in a '70 Nova. Parrott had the better reaction and drove to the win with a 14.343/89.12 on a 14.32 dial. Hornsby ran a 9.926/132.86 on a 9.90 dial.  Semi-finalist was Daryl Beauchamp of Princess Anne, Md. who lost to Hornsby.
For the second week in a row it was Harvey Powell riding to the win in Pro Bike. Powell defeated Brian Wongus of Cambridge, Md. with a 9.156/130.13 on a 9.14 dial while Wongus ran a 10.055/132.21 on a 10.00 dial.
Josh Davis in his '77 AMC Pacer faced T.J. Hudson of Millsboro in his '68 Camaro in the Street final. Davis had the slower start but was on his dial running a 12.202/102.55 on a 12.20 dial for the win. Hudson ran an 11.570/105.46 on an 11.50 dial.
In Hot Rod it was Henry Osowiecki over Greg Jackson of Newark, Md. Osowiecki had the better start and took the double break out win with an 11.877/109.97 on an 11.90 dial. Jackson was out by more running a 12.645/103.29 on a 12.68 dial.
Brittany Hooper was paired with James Paylor of North East, Md. in the Jr. Dragster 1 final. Hooper had a .005 light and took the win with an 8.971/71.50 on an 8.90 dial. Paylor ran a 9.021/70.86 on an 8.98 dial.
Ryan Jackson faced Jerel Davis of Salisbury in the Jr. Dragster 2 final. Davis broke out with a 7.904 on a 7.92 dial and Jackson got the win with an 8.047/79.81 on an 8.01 dial.
This Sunday, Oct. 12th will be the "Footbrake Nationals.� Gates open at 10 a.m. with time runs at 11 a.m. and eliminations around 2 p.m.
Back to News