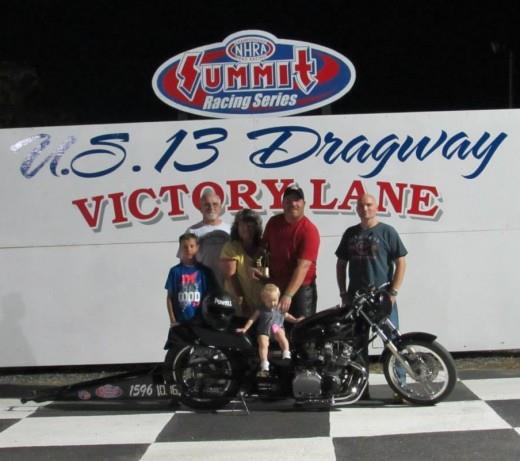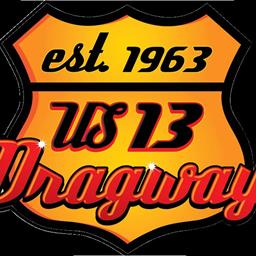 ---
HARVEY POWELL WINS KING OF THE TRACK SUNDAY AT U.S. 13
By Charlie Brown, Delmar, DE – Each season the U.S. 13 Dragway hosts the "King of the Track� eliminations where each of the four NHRA division winners on the day compete against each other to earn the title of "King of the Track.� For the second year in a row the Pro Bike winner took the "King� honors as Harvey Powell of Parsonsburg, Md. rode to the win over Pro winner, Ernie Fisher of Laurel, Del. Other winners on the day were: Bill Blank, Jr. of Snow Hill, Md. in Super Pro; Josh Nichols of Hebron, Md. in Street; Randy Chestnut of Delmar, Md. in Hot Rod; Ethan Hubbard of Princess Anne, Md. in Jr. Dragster 1 Challenge and Ryan Jackson of Newark, Md. in Jr. Dragster 2 Challenge.
Bill Blank, Jr. faced Ben Parks of Salisbury, Md. in the Super Pro final. Blank, Jr. had a .006 reaction time and took the win with a 9.539/138.63 on a 9.53 dial-in in his '69 Camaro. Parks in a dragster ran a 7.800/170.10 on a 7.79 dial. Semi-finalists were Brian Kunkowski of Laurel who lost to Blank, Jr. and Frank Lecates of Salisbury who lost to Parks.
Ernie Fisher met Glenn Groton of Salisbury in the Pro final. Groton in his '78 Malibu broke out with an 11.109 on an 11.12 dial and Fisher took the win with a run of 9.490/139.29 on a 9.47 dial. Semi-finalists were Ronnie Bishop of Salisbury who lost to Fisher and Frank Parks of Denton, Md. who lost to Groton.
Harvey Powell rode up against Charles Nock of Greenwood, Del. in the Pro Bike final. Nock had a -.001 red light foul and Powell rode his Suzuki to the win with a 10.167/126.81 on a 10.11 dial. Semi-finalist was Will Jensen of Dagsboro who lost to Powell while Nock had the bye.
The Street final paired Josh Nichols in his '79 Ford against Josh Davis of Seaford, Del. in his '77 Pacer. Nichols took the double break out win with a 15.463/91.43 on a 15.48 dial while Davis was out by one-thousandth more with a 12.322/103.71 on a 12.34 dial.
In the "King of the Track� eliminations Powell advanced to the final with a win over Nichols and Fisher advanced with a win over Blank, Jr In the final Powell had the better reaction and took the win with a 10.230/119.25 on a 10.16 dial while Fisher ran a 9.528/137.99 on a 9.49 dial. For his win Powell received a "Wally� trophy.
In Hot Rod it was Randy Chestnut driving his '84 Chevy S-10 pickup to the win over Chester Bowser of Ocean City, Md. in his '99 BMW. Chestnut had a .004 reaction light and ran a 12.652/81.27 on an 11.86 dial while Bowser had a 16.395/83.23 on a 15.74 dial.
Sunday was also the Jr. Dragster Challenge with winners receiving "Wally� trophies. In Jr. Dragster 1 Ethan Hubbard was up against 2014 Jr. 1 Champion, Nicholas Bowie of Greensboro, Md. Bowie left too early and fouled and Hubbard won the challenge with an 8.961/73.01 on an 8.93 dial. In Jr. 2 Ryan Jackson was paired with Katelyn Muir of Salisbury. Muir had a red light foul and Jackson took the victory with a 7.970/80.58 on a 7.96 dial.
Back to News