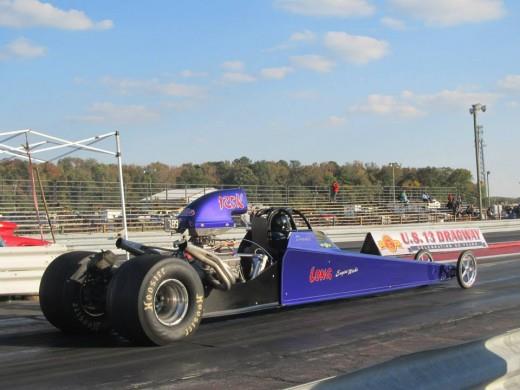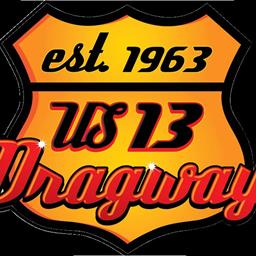 ---
DENNIS LONG TAKES HALLOWEEN SHOOTOUT SUPER PRO SEASON FINALE SUNDAY AT U.S. 13
By Charlie Brown, Delmar, DE – A great field of cars were on hand Sunday for the Halloween Shootout season finale and everyone wanted to get a win in to close out the year. Driving to victory in the Super Pro division was Dennis Long of Chesapeake City, Md. Marcus Wongus of Rhodesdale, Md. picked up another win in Pro and James Farmer of Denton, Md. added to his championship season total by winning in Pro Bike. Other winners on the day included: Crystal Hudson of Millsboro, Del. in Street; Dacia Powell of Salisbury, Md. in Jr. Dragster 1 and Alex Bradfrod of Newark, Md. in Jr. Dragster 2.
Dennis Long faced Ricky Payne of Salisbury in an all dragster final round. Payne had a -.005 red light and Long drove to the $1500 victory running a 7.912/165.99 on a 7.94 dial. It was his second win of the season. Semi-finalist was Vance Owens of Georgetown, Del. who lost to Long while Payne had the bye.
Marcus Wongus met Chad Thurmon of Vienna, Md. in the Pro final. Wongus took the hole shot win with a 9.445/134.36 on a 9.40 dial. Thurmon was on his dial but late at the line running a 9.884/134.79 on a 9.88 dial. The win was worth $1000 for Wongus and was his second win of the season. Semi-finalist was Buddy Layfield of Parsonsburg, Md. who lost to Wongus while Thurman had the bye.
James Farmer rode up against Marquise Blake of Frankford, Del. Farmer posted his seventh win of the year with an 8.625/130.96 on an 8.52 dial. Blake was off his dial with a 9.266/148.46 on a 9.09 dial. Semi-finalist was John Ferguson of Cambridge, Md. who lost to Farmer while Blake had the bye. Farmer earned $250 for his win.
Crystal Hudson and Ronn Carey of Dagsboro, Del. were paired in the Street final. Carey left early and fouled and Hudson raced to her second win of the year with an 11.005/120.77 on a 10.93 dial. The win was worth $50.
The Dragway offered $50 and Steve Walston offered a matching $50 for the winners in Jr. Dragster. In Jr. Dragster 1, Dacia Powell was paired against Caitlyn Hooper of Hurlock, Md. Hooper left too early and fouled and Powell drove to her ninth win of the season running an 8.999/71.57 on an 8.98 dial. In Jr. Dragster 2 it was Alex Bradford taking on Ryan Jackson also of Newark, Md. Bradford picked up his second win with an 8.011/81.69 on an 8.00 dial. Jackson ran a solid 7.998/79.68 on a 7.93 dial.
The management of the U.S. 13 Dragway would like to thank all the competitors, fans and employees for a successful 50th Anniversary season and hope to see everyone at the Dragway banquet in January at the Dover Downs Hotel & Casino.
Back to News