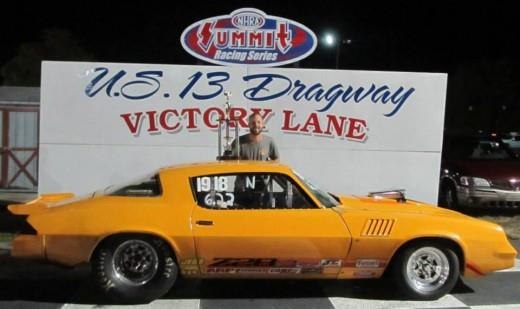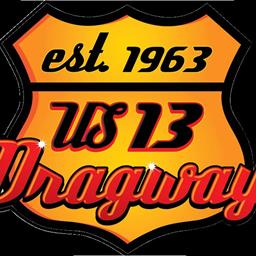 ---
DARYL BEAUCHAMP CAPTURES FOOT BRAKE NATIONALS SATURDAY AT U.S. 13 DRAGWAY
By Charlie Brown, Delmar, DE – Day one of the two day final weekend at the U.S. 13 Dragway produced some tight competition despite high winds which shortened racing to the eighth-mile. Daryl Beauchamp of Princess Anne, Md. captured the Foot Brake Nationals final earning him $1000 on the day. Tim Foskey, Jr. of Rhodesdale, Md. was the big winner in the Combo division taking home $1200 for his win. Other winners on the day included: Harvey Powell of Parsonsburg, Md. in Pro Bike; Bill Collingsworth of Delmar in Street and Ryan Jackson of Newark, Md. in Jr. Dragster 2.
The Foot Brake division was for racers running without electronics. In the final round it was Daryl Beauchamp taking on Frank Parks of Denton, Md. Beauchamp took advantage of having the better reaction time to take the win running a 6.238/115.11 on a 6.22 dial in the eighth-mile. Parks was on his dial but late at the start running a 7.344/90.94 on a 7.34 dial. Semi-finalists were Vance Owens of Georgetown, Del. who lost to Parks and Robin Lewers of Pocomoke, Md. who lost to Beauchamp.
In the Combo final it was Tim Foskey, Jr. up against Vic Gordy of Ellendale, Del. Foskey had a .004 reaction light and drove to the win with a 5.922/105.60 on a 5.89 dial. Gordy posted a 5.871/114.98 on a 6.86 dial. Semi-finalist was Vance Owens who lost to Foskey while Gordy had the bye.
Harvey Powell rode up against Roger Adams of New Church, Va. in the Pro Bike final. Adams had a red light foul and Powell rode to the win with a 5.924/113.86 on a 5.92 dial. Semi—finalist was Avery Holland, Jr. of Laurel, Del. who lost to Powell while Adams had the bye.
Bill Collingsworth defeated T.J. Hudson in the Street Eliminator final. Hudson had a red light foul and Collingsworth ran a 12.759/103.41 on a 12.85 dial for the victory.
Jr. Dragster 1 was not in action on Saturday but in the Jr. Dragster 2 final it was Ryan Jackson paired against Kody Mariner of Salisbury, Md. Mariner left early and fouled and Jackson was on his dial for the win with a 7.901/81.43 on a 7.90 dial.
Action resumes on Sunday with the Halloween Shootout bringing the 2013 season to an end. Gates open at 10 a.m. with time runs at 11 a.m. and eliminations around 2 p.m.
Back to News