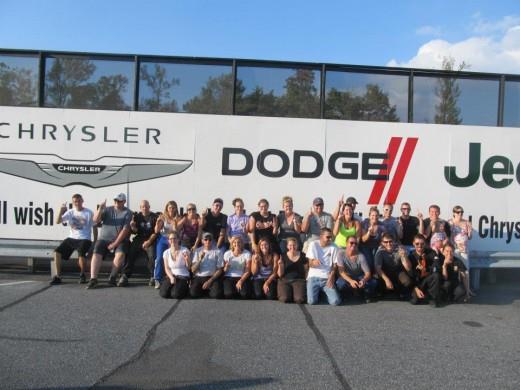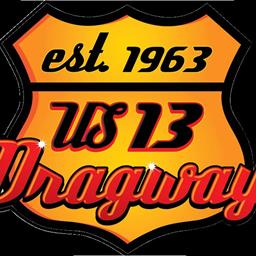 ---
ERIC MASON AND BILLY GROTON CAPTURE BAD 8 EIGHTH MILE FINALS AT U.S. 13
By Charlie Brown, Delmar, DE – The U.S. 13 Dragway shortened things up a little bit on Sunday running eighth-mile drag racing instead of the full quarter-mile. It was the sixth Bad 8 event of the year with Eric Mason of Pocomoke, Md. taking the Open Wheel final and Billy Groton of Seaford, Del. taking the Full Body final. Other winners on the day included: Jamie Russell of Dover, Del. in Super Pro; Daryl Beauchamp of Princess Anne, Md. in Pro; Harvey Powell of Parsonsburg, Md. in Pro Bike; Frank Parks of Denton, Md. in Street; Morgan Larkin of Salisbury, Md. in Jr. Dragster 1; Robynn Powell of Salisbury in Jr. Dragster 2 and Paige Townsend of Dagsboro, Del. in Jr. Dragster 3 Reunion.
Eric Mason met Dennis James in the Bad 8 Open Wheel final. Mason had a perfect .000 reaction time and took the win with a 4.843/142.76 on a 4.81 dial (all times are for the eighth-mile). Low E.T. and Top Speed were set by Wayne Patton of Rhodesdale, Md with a 4.339/161.75. In the Full Body final it was Billy Groton taking on Paul Lake of Greenwood, Del. Groton had a .006 reaction light and took the win with a 5.281/129.57 on a 5.28 dial. Lake ran a 5.795/117.67 on a 5.79 dial. Low E.T. and Top Speed were set by Kevin Merritt of Chincoteague, Va. in his '70 Duster with a 5.211/133.33.
Jamie Russell and 2013 Super Pro Champion, Laura Landry of Townsend, Del. were paired in the Super Pro final. Russell had the better reaction and was on his dial for the win with a 6.622/100.55 on a 6.62 dial. Landry was close with a 6.139/111.06 on a 6.13 dial. Semi-finalists were Billy Groton and Glenn Reese of New Castle, Del.
Daryl Beauchamp went up against Bryan Hudson of Dagsboro in the Pro final. Hudson broke out running a 7.505 on a 7.51 dial and Beauchamp took the win with a 5.779/111.71 on a 5.76 dial. Semi-finalist was Robin Lewers of Pocomoke, Md.
Harvey Powell rode into the Pro Bike final against Keshawn Hopkins of Dover. Hopkins had the better reaction but Powell was on his dial with a 6.050/111.34 on a 6.04 dial for the win. Hopkins ran a 5.926/118.71 on a 5.85 dial. Semi-finalist was Roland Powell of Parsonsburg on an Skidoo.
Two time champion, Frank Parks wasn't bothered in the least by the eight-mile distance. Parks defeated Jerry Swift of Marion, Md. running a 7.485/81.41 on a 7.48 dial in his '73 Mustang for the win. Swift had a 7.988/83.42 on a 7.83 dial.
In Jr. Dragster 1 it was Morgan Larking taking on the winner of the last two weeks; Cody Drummond of Laurel, Del. Larkin had the better reaction and was on her dial for her first win this season with an 8.952/74.20 on an 8.95 dial. Drummod ran a 13.078/50.06 on a 13.00 dial.
The Jr. Dragster 2 final paired Robynn Powell and Taylor Cox of Mardela Springs, Md. Powell had the better start and took the win with an 8.004/79.37 on a 7.96 dial. Cox had an identical 8.004/78.36 on a 7.90 dial.
The 1st Annual Jr. Dragster "3� Reunion was held for former Jr. Dragster racers that were now 21 years old or older. Over 20 former drivers climbed back into Jr. Dragsters and had a great time. Paige Townsend came out on top in the final round defeating Vic Gordy of Ellendale, Del. Gordy had a red light foul and Townsend got the victory with a 7.857/73.87 on a 7.71 dial. Semi-finalist was Laura Landry. Quarter-finalists were Jamie Powell of Delmar, Kristen Couden of Felton, Del. and Lindsay Humphrey of Crisfield, Md.
Back to News