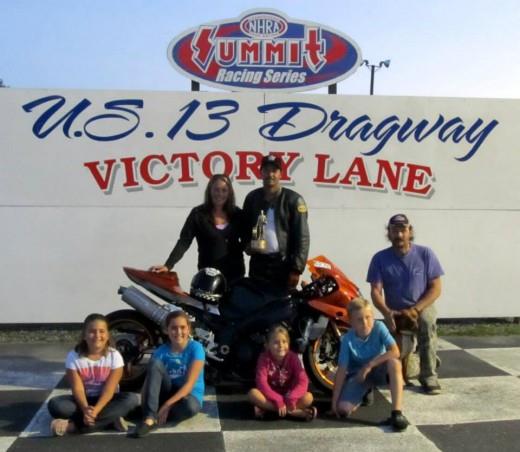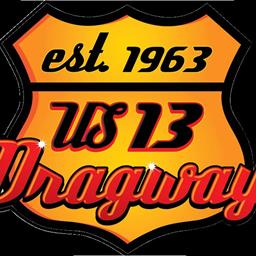 ---
MARQUISE BLAKE RIDES TO KING OF THE TRACK TITLE SUNDAY AT U.S. 13
By Charlie Brown, Delmar, DE – It was only fitting that Marquise Blake of Frankford, Del. won the "King of the Track� title Sunday at the U.S. 13 Dragway. Blake has not lost a round of racing in three consecutive events and his Pro Bike win on Sunday was his fifth of the year. Blake then went up against four time winner, Ben Parks of Salisbury who won Super Pro, three time winner, Jim Williams of Seaford, Del. who had won Pro and T.J. Hudson of Millsboro, Del. who had won Street. Blake defeated Parks in the Semi then beat Williams in the final for the crown.
In the final round, Williams had the better reaction but Blake rode by him running a 9.005/153.92 on an 8.97 dial. Williams ran a 9.494/142.04 on a 9.39 dial.
The Super Pro final matched Parks and Tommy Ketterman of Salisbury. Ketterman had the better reaction but Parks drove by with a 7.826/167.53 on a 7.79 dial. Ketterman ran a 9.154/152.38 on a 9.08 dial. Semi-finalists were David Lowe of Salisbury who lost to Ketterman and Glenn Reese of New Castle, Del. who lost to Parks.
Jim Williams faced Rick Passwaters of Bridgeville, Del. who was making his first final round appearance of the season in the Pro final. Passwaters had a -.006 reaction and fouled and Williams made a full pass at 9.398/144.46 on a 9.39 dial for the win. Semi-finalists were Daryl Beauchamp of Princess Anne, Md. who lost to Williams and John Parks of Denton, Md. who lost to Passwaters.
Blake rode up against James Farmer in the Pro Bike final. Blake got Farmer at the line with a .022 reaction light and a run of 9.004/152.23 on an 8.97 dial. Farmer ran an 8.695/148.22 on an 8.56 dial. Semi-finalist was Harvey Powell of Parsonsburg, Md. who lost to Blake.
The Street final paired T.J. Hudson and Jay Parrott of Quantico, Md. The duo was even off the starting line but it was Hudson having the better run with an 11.541/95.79 on an 11.50 dial for the win. Parrott ran a 14.437/90.25 on a 14.34 dial.
Cody Drummond posted his second win taking the Jr. Dragster 1 final over James Paylor of North East, Md. Paylor left too early and fouled and Drummond ran a 12.895/51.40 on a 12.90 dial for the win. In Jr. Dragster 2 it was Katelyn Muir picking up another win defeating Michael Ennis of Delmar. The pair had identical reaction times with Muir running a 7.931/82.85 on a 7.90 dial while Ennis had an 8.381/76.68 on an 8.32 dial.
Congratulations to Laura Landry for her runner-up finish in Super Pro in the NHRA Division 1 Bracket Finals at the Numidia Dragway and to James Farmer for his second win in the Bracket Finals in the Pro Bike Race of Champions. Also a great job was done by all of the Team U.S. 13 competitors in finishing third overall in the team standings.
Back to News