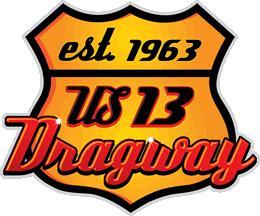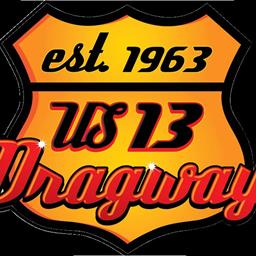 ---
U.S. 13 DRAGWAY'S FINEST HEADED TO NHRA DIVISION 1 BRACKET FINALS
By Charlie Brown, Delmar, DE – The U.S. 13 Dragway will be silent this weekend as the top drivers and riders from the historic quarter-mile will be headed to the NHRA Northeast Division 1 Bracket Finals at the Numidia Dragway in Catawissa, Pa.  
The racers that finished highest in the Summit E.T. Racing Series points this season at U.S. 13 earned a place on the roster. The drivers will take part in two days of time runs plus the "Race of Champions� on Thursday and Friday, September 19th and 20th. Eliminations will begin first thing Saturday morning Sept. 21st and will run throughout the day into the evening as the top teams from all of the participating Division 1 tracks will be in competition. Division 1 champions are then eligible to compete in the NHRA National Championship in Pamona, California later this year.
Representing the U.S. 13 Dragway in Super Pro will be: Laura Landry of Townsend, Del.  (2013 track champion); Ben Parks of Salisbury, Md.; Glenn Reese of New Castle, Del.;  Billy Groton of Seaford, Del.; Brooks Moore of Salisbury; ; Don Teague of Newark, Del.; Jamie Russell of Dover, Del. ; Vance Owens, Georgetown, Del. and 2012 champion, Frank Lecates of Salisbury. Designated floaters in the division include: Vic Gordy of Ellendale, Del.; Robert Messick of Pittsville, Md.; Larry Shorb of New Castle; W.R. Ketterman of Salisbury; Mark Cathell of Seaford; Bernie Pyle of Millersville, Md.; Toya Peek of Houston, Del. Chad Cathell of Seaford and Phillip Truitt of Parsonsburg, Md. Eddie Savage of Wallops Island, Va. will be the Alternate.
In the Pro division representatives are: Jesse Long of Preston, Md. (2013 track champion); Daryl Beauchamp  of Princess Anne, Md.; Ryan Groton of Laurel, Del.; John Parks of Denton, Md.; Tim Foskey of Rhodesdale, Md, Crystal Hudson of Millsboro, Del.; Jim Williams of Seaford; Brian Reibert, Jr. of Salisbury and David Hornsby of Delmar, Del. Designated floaters in the division are: Ben Garnett of Smyrna, Del.; Vincent Wade of Eden, Md.; Wayne Redrow of New Castle; Roger Ridgeway, Jr. of Dover; Billy Jackson of Seaford; Jennifer Reese of New Castle; John Henderson of Frederica, Del.; Janet Baden of Millersville; John Kulaga of Elkton, Md.; and Gary Owens of Georgetown.
Riders that will be competing in Pro Bike include James Farmer of Denton (2013 track champion) and Harvey Powell of Salisbury. Designated floaters will be Anthony Buckson of Smyrna, Del. and John Bartkovich of Salisbury. David Manuel of Pittsville will be the alternate. Representing Street Eliminator will be Frank Parks of Denton (2013 track champion) and Ronn Carey of Dagsboro, Del. Floaters will be Josh Nichols of Hebron, Md. and Ryan Lecates of Salisbury. Sharon Landry of Townsend will be the alternate. Representing U.S. 13 in the High School Eliminator will be Taylor Pavone of Seaford.
Tracks with the best overall performances by their representatives will be awarded the NHRA Division 1 Team Championship.
Back to News