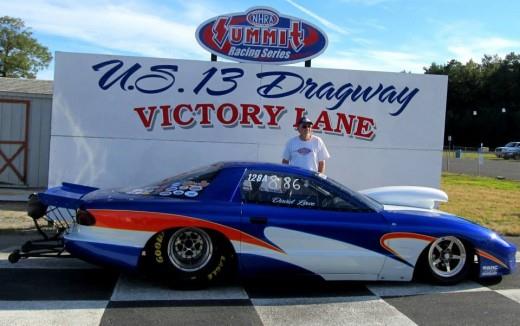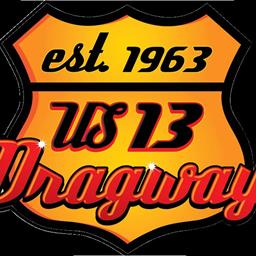 ---
DAVID LOWE BECOMES 15TH DIFFERENT SUPER PRO WINNER THIS SEASON AT U.S. 13
By Charlie Brown, Delmar, DE – David Lowe of Salisbury, Md. added his name to a long list of winners in Super Pro this season at the U.S. 13 Dragway. His final round win on Sunday made him the 15th different winner in the division. Ryan Groton of Laurel, Del. notched his second win in Pro while Marquise Blake of Frankford, Del. put together back to back wins in Pro Bike and his fourth of the year. Other winners on the day included: Chuck Wayne of Millsboro, Del. with his second win; Cody Drummond of Laurel with his first win of the year in Jr. Dragster 1 and 2013 Jr. Dragster 2 champion, Christian Walston of Crisfield, Md. with win number three.
The Super Pro final was a matchup between David Lowe in his '01 Pontiac against the dragster of 2012 point champ, Frank Lecates of Salisbury. Lowe  had the better reaction and took the win with an 8.888/149.45 on an 8.86 dial. Lecates ran a quick 7.934/166.08 on a 7.90 dial. Semi-finalist was W.R. Ketterman of Salisbury who lost to Lowe while Lecates had the bye.
Ryan Groton met John Henderson of Frederica, Del. in the all-Camaro Pro final. Groton had the better start and Henderson broke out with an 11.941/104.57 on an 11.95. Groton added to his better reaction with an 11.945/111.08 on an 11.90 dial for the win. Semi-finalist was Bryan Hudson of Dagsboro, Del. who lost to Henderson while Groton had the bye.
Marquise Blake rode into the Pro Bike final for the second straight week facing D.J. Lockwood of Berlin, Md. Lockwood left early and fouled and Blake made a full pass at 9.090/149.90 on a 9.05 dial for the win. Semi-finalist was Charles Dehaven of Salisbury who lost to Blake while Lockwood had the bye.
Chuck Wayne took advantage of a -.003 red light foul by 2012-2013 Street Champion, Frank Parks of Denton, Md. to win in Street Eliminator. Wayne ran an 11.788/114.12 on an 11.81 in his '80 Monte Carlo for the victory.
Cody Drummond was paired against Morgan Larkin of Salisbury in the Jr. Dragster 1 final. Larkin had the better reaction but was too quick and broke out with an 8.918 on an 8.95 dial while Drummond posted his first win of the season with a 12.934/47.06 on a 12.90 dial. In Jr. Dragster 2 it was Christian Walston taking on Amanda Clem of Hurlock, Md. Walston had the better start and drove to the win with a 7.927/78.32 on a 7.90 dial. Clem ran a solid 8.107/79.14 on an 8.08 dial.
There will be no racing at the U.S. 13 Dragway this weekend as the top racers in Super Pro, Pro, Pro Bike, Street and High School Eliminator head to the three day NHRA Northeast Division 1 Bracket Finals at the Numidia Dragway in Catawissa, Pa. Good luck to "Team 13.�
Back to News