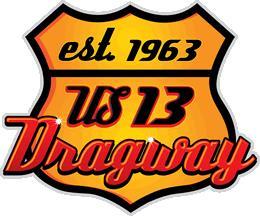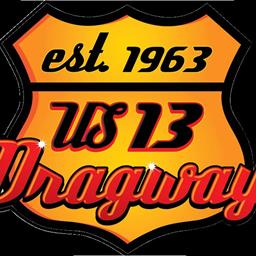 ---
MIKE JONES REPEATS IN SUPER PRO IN 6TH ANNUAL FORD SHOW, SHINE & DRAGS AT U.S.13
By Charlie Brown, Delmar, DE (9/16/12) – Mike Jones of Salisbury, Md. put together another perfect weekend as he won his second consecutive Super Pro final during Sunday's 6th Annual Ford Show, Shine and Drags at the U.S. 13 Dragway. A great crowd was on hand to take in the car show that was well-orchestrated by Cheswold Connection Ford Racing and a day of drag racing that included the 422 Motorsports All-Stars.
Jones met Jim Swagler, III of Berlin, Md. in the Super Pro final. Swagler had a -.004 red light foul and Jones cruised to the win with an 8.052/123.47 on a 7.49 dial. Semi-finalists were Robert Messick of Pittsville, Md. who lost to Swagler and Vernon Russell of Dover, Del. who lost to Jones.
Chris Ridgeway of Dover drove his '86 Mustang into the Pro final against Bernie Pyles of Millersville Md. in his Chevelle. Ridgeway had a .006 reaction and took the win with a 10.426/128.09 on a 10.41 dial. Pyles broke out with a 10.086/129.87 on a 10.10 dial. Semi-finalist was Tim Foskey of Rhodesdale, Md. who lost to Pyles.
The Pro Bike final matched 2012 Champion, James Farmer of Denton, Md. against the 2011 Champion, Charles Nock of Greenwood, Del. It was a good run with Farmer adding his fifth straight win and his seventh of the season with an 8.747/136.94 on an 8.70 dial. Nock ran a super-fast 8.618/161.05 on an 8.55 dial. Semi-finalists were Turon Davis of Berlin, Md. and Joe Stanley of East New Market, Md.
Kevin Grasson of Olney, Md. had a great day in the 422 Motorsports portion of the show. Grasson in his '64 Dodge faced the '68 Impala of Chet Cook of Belleville, N.J. in the Nostalgia final. Cook had a red light foul and Grasson ran a 10.013/134.60 on a 10.00 dial for the win. Grasson then faced Leo Sekulski of Selinsgrove, Pa. in his '63 Ford in the 422 Motorsports final. Grasson again was the winner with a 10.152/119.69 on a 10.00 dial. Sekulski ran a 10.438/111.89 on a 9.50 dial.
Frank Parks of Denton in his '73 Mustang defeated Ronn Care;y of Dagsboro, Del. in his Chevy S-10 in the Street Eliminator final. Carey had a red light foul at the start and Parks ran an 11.917/111.56 on an 11.95 dial for the victory. Alonzo Trower of Birdsnest, Va. had a solo run for his second straight win in Bike Trophy. Trowner ran a 10.181/103.06 on la 10.00 dial.
In the Jr. Dragster 1 final it was Tyler Powell of Delmar, Md. paired against Dacia Powell of Salisbury. Tyler had the better reaction and took the win with a 9.499/56.36 on an 8.90 dial. Dacia ran a 9.354/70.58 on a 9.05 dial. In Jr. Dragster 2 it was Shelby Bireley of Salisbury taking on Cortney Cathell of Laurel, Del. Bireley had a .007 reaction and took the win with a 7.911/81.89 on a 7.90 dial. Cathell ran out with a 7.887/80.60 on a 7.90 dial.
This weekend there will be no racing at the U.S. 13 Dragway as the top teams head to the Lebanon Valley Dragway in New York for the NHRA Division 1 Bracket Finals. Good luck to Team U.S. 13!
Back to News