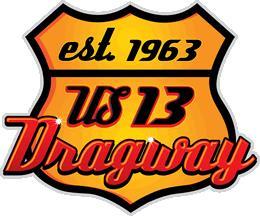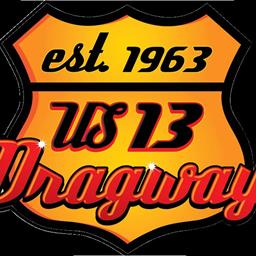 ---
MIKE JONES WINS SUPER PRO AND KING OF THE TRACK ON THE 49TH ANNIVERSARY
By Charlie Brown, Delmar, DE (9/9/12) – Mike Jones of Salisbury, Md. could not have celebrated the William J. & Juanita Cathell Memorial 49th Anniversary Chevy Show, Shine and Drags any better on Sunday. Jones first captured the Super Pro final then went on to defeat Tim Foskey of Rhodesdale, Md. who had won Pro to be crowned the "King of the Track.� Other winners on the day included James Farmer of Denton, Md. on Pro Bike, Billy Brown of Selbyville, Md. in Street, Alonzo Trower of Birdsnest, Va. in Bike Trophy, Ethan Hubbard of Princess Anne, Md. in the Jr. Dragster 1 Challenge, Katelyn Muir of Delmar, Md. in the Jr. Dragster 2 Challenge and Lorynn Huntington of Parsonsburg, Md. in the High School Eliminator. Winners were presented with "Wally� trophies for their wins.
A great crowd was on hand to take in both the racing and the car show. There was a large field of beautiful show cars and the U.S. 13 Dragway would like to thank the Mason-Dixon Classic Chevy Club for an outstanding job of organizing and running the car show.
Mike Jones faced Vance Owens of Georgetown, Del. in the Super Pro final. Jones had a .011 reaction and drove to the win, his second of the season, with a 7.562/172.24 on a 7.53 dial. Owens broke out running an 11.059/120.17 on an 11.06 dial. Semi-finalist was Vic Gordy of Ellendale, Del. who broke in the Semi-final round.
The Pro final matched Tim Foskey and Jim Williams of Seaford, Del. Williams had the better reaction but broke out with a 9.785/133.01 on a 9.82 dial. Foskey was on his dial and took the win with a 9.573/137.57 on a 9.57 dial. Semi-finalist was Humphrey Maddox, Jr. of Princess Anne who lost to Williams while Foskey had the bye.
James Farmer rode up against Morgan Hudson of Berlin, Md. in the Pro Bike final. The newly crowned Pro Bike Champion, Farmer, rode to his sixth win of the season with an 8.933/121.90 on an 8.79 dial. Hudson had a .005 light but was off his dial running an 11.345/119.20 on an 11.11 dial-in. Semi-finalist was Cardi Nock of Bridgeville, Del. who lost to Farmer while Hudson had the bye.
Billy Brown defeated Gary Stickles of Delmar, Md. to win in Street Eliminator. Brown was almost dead on his dial running an 11.331/114.05 on an 11.33 dial for the win. Stickles had a 14.017/96.19 on a 13.98 dial.
In the King of the Track final which paired the four division winners for the day against each other, it was Jones against Foskey in the final. Foskey had the better reaction with a .016 but was off his dial and Jones took the win with a 7.569/164.29 on a 7.54 dial. Foskey ran a 9.704/137.13 on a 9.57 dail.
The Bike Trophy final paired Alonzo Trower and Brian Boylis. Trower had the better reaction in the heads-up start and rode to the win with a 10.998/109.10 on a 10.00 dial. Boylis as late off the line and lost with a quicker 10.838/117.98 on a 10.00 dial.
It was the Jr. Dragster Challenge for the two Jr. Dragster divisions. In Jr. Dragster 1, Ethan Hubbard went up against R. Max Benning of Westriver, Md. Benning left too early and fouled and Hubbard took his first win with a 12.995/50.85. In Jr. Dragster 2 Katelyn Muir took on Herby Sullivan of Ridgely, Md. Sullivan had a .007 light but was off his dial with an 8.008/81.19 on a 7.91 dial and Muir posted the win with a 7.930/82.91 on a 7.91 dial.
The High School Eliminator determined who would represent U.S. 13 at the Division 1 Bracket Finals in two weeks. Lorynn Huntington met Taylor Pavone of Seaford in the final. Huntington had the better reaction and drove to the win with a 17.850/77.56 on a 17.83 dial. Pavoe ran a 16.335/82.98 on a 16.32 dial but was late at the start.
This Sunday, September 16th is the rescheduled 6th Annual Ford Show 422 Motorsports All Stars plus E.T. Racing Series. The Ford Show will be hosterd by the Cheswold Connection Ford Racing. The first 100 entries will receive dash plaques. There will be 26 first place awads, 26 second place awards and 26 third place awards. Show cars must be Ford powered. Gates open at 10 a.m. with show registration until noon. Time runs will begin at 11 a.m. with eliminations immediately following the presentation of the show awards.
Back to News