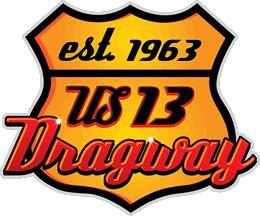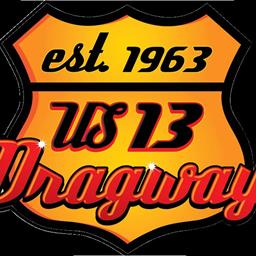 ---
RAIN AGAIN AT U.S. 13 – CHAMPIONS CROWNED
By Charlie Brown, Delmar, DE (9/2/12) – A severe rain storm around midnight on Saturday and intermittent showers throughout Sunday produced the eighth rainout of the 2012 season at the U.S. 13 Dragway. The 6th Annual Ford Motorsports  Show with the Cheswold Connection show plus the 422 Motorsports All-Stars has now been moved to Sunday, September 16th.
The 2012 Summit E.T. Racing Point Series was declared official. Congratulations to the following drivers and rider for winning the 2012 championships in their respective divisions: Frank Lecates of Salisbury, Md. in Super Pro; Glenn Groton of Salisbury in Pro; James Farmer of Denton, Md. in Pro Bike; Frank Parks of Denton in Street Eliminator; Tyler Powell of Delmar, Md. in Jr. Dragster 1 and Herby Sulivan of Ridgely, Md. in Jr.
This Sunday, September 9th will be the rescheduled William J. & Juanita Cathell Memorial 49th Anniversary Super Chevy Show, Shine & Drags. The biggest event of the season will showcase over 200 show cars and traditionally produces more than 300 race teams.
The Chevy show is hosted by the Mason-Dixon Classic Chevy Club. Show vehicles must be Chevy powered and dash plaques will be given to the first 200 entries. There will be now classes. Instead there will be 49 first place awards, 49 second place awards, 49 third place awards plus three best in show awards. Judging will be performed by qualified judges. Gates open at 9 a.m. and show registration will run until noon.
Drag racing will be open to all makes and models. Class competition will be in Super Pro, Pro, Pro Bike, Street, Bike Trophy, Jr. Dragster 1 and Jr. Dragster 2. plus the High School Challenge. Wally trophies will be presented to the winners in Super Pro, Pro, Pro Bike and Street. Time runs begin at 10 a.m. with eliminations following the show award presentations.
Back to News