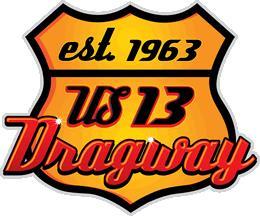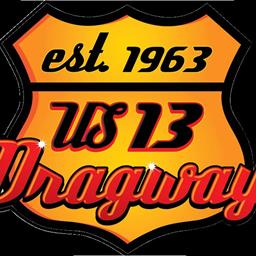 ---
BILLY THOMAS BECOMES 12TH DIFFERENT WINNER IN SUPER PRO AT U.S. 13
By Charlie Brown, Delmar, DE (8/17/12) – Billy Thomas of Pasadena, Md. became the 12th different driver to add his name to the win list this season at the U.S. 13 Dragway when he captured the Super Pro final Friday night. Glenn Groton of Salisbury extended his point lead with his fourth win in Pro and James Farmer of Denton, Md. did likewise in winning his fifth of the season in Pro Bike. Billy McLamb of Delmar, Md. recorded his first win of the season in Street as did Jake Perkins of Dagsboro, Del. in Bike Trophy. In Jr. Dragster it was Tyler Williams of Fruitland, Md. winning in Jr. Dragster 1 and Jerel Davis of Salisbury taking the Jr. Dragster 2 final.
Billy Thomas faced Mike Larkin of Salisbury in the Super Pro final. Thomas had the quicker reaction and took the win with an 8.136/164.53 on an 8.13 dial. Larkin was also on his dial running a 7.229/185.14 on a 7.22 dial. Semi-finalists were Glenn Reese of New Castle, Del. who lost to Thomas and Hank Usilton of Salisbury who lost to Larkin.
Glenn Groton met Kevin Parks of Greensboro, Md. in the Pro final. Groton took the win with a 10.592/124.75 on a 10.56 dial while Parks broke out running a 10.379/126.60 on a 10.39 dial. Semi-finalists were Ryan Groton who lost to his father Glenn and Steve Long who lost to Parks.
James Farmer rode up against Anthony Buckson of Smyrna, Del. in the Pro Bike final. Farmer had the quicker reaction and took the win with a 9.017/125.59 on a 8.93 dial. Buckson had a 9.729/127.87 on a 9.67 dial. Semi-finalists were Turon Davis of Berlin, Md. who lost to Farmer and Antwine Nock of Georgetown, Del. who lost to Buckson.
Billy McLamb was defeated Wayne Phippin of Salisbury in the Street final. Phippin had a red light foul and McLamb ran a 13.233/100.14 on a 13.03 for the win. In Bike Trophy it was Jake Perkins over Travis Wright of Grasonville, Md. Wright had the better start but Perkins took the win with a 10.453/137.99 on a 10.40 dial. Wright ran a 10.081/124.72 on a 10.00 dial.
Tyler Williams picked up his first win of the year in Jr. Dragster 1 over Anthony Pavone of Seaford, Del. Williams ran a 9.344/69.44 on a 9.25 dial while Pavone broke out with a 8.934/70.89 on an 8.94 dial. Jerel Davis got his first win of the year in Jr. Dragster 2 over Jordan Dill of Ellendale, Del. It was a close run with Davis taking the win with a 7.935/81.76 on a 7.91 dial while Dill had an 8.012/79.93 on a 7.98 dial.
There will be a Tune & Test this Wednesday night with gates opening at 5 p.m. and testing from 6 until 9 p.m. Racing action moves back to Sunday's this week with the William J. & Juanita Cathell Memorial 49th Anniversary Super Chevy Show, Shine & Drags on August 26th. Gates open at 9 a.m. with show registration from 9 a.m. until noon. Time runs will begin at 10 a.m. All bracket and trophy classes will be in action along with the High School Eliminator.
Back to News