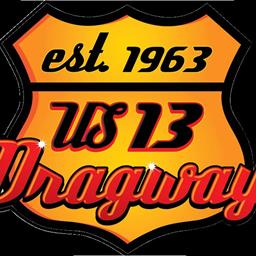 ---
WEATHER ONCE AGAIN PALGUES RACING AT U.S. 13
By Charlie Brown, Delmar, DE – Heavy morning rains and the threat of more unsettled weather forced the cancellation of drag racing at the U.S. 13 Dragway Saturday night.
The next event on the schedule will be Friday night, August 17th which will be the final Friday night before switching back to Sunday racing. The Summit E.T. Point Series event will have gates opening at 3:30 p.m. with time runs starting at 4:30 p.m. and eliminations at approximately 8 p.m.
Wednesday night August 22nd will be Tune & Test Night. Gates will open at 5 p.m. with tune and testing from 6 p.m. until 9 p.m.
Sunday August 26th will be the William J. Cathell Memorial Super Chevy Show, Shine and Drags plus RAM Racing.
Back to News