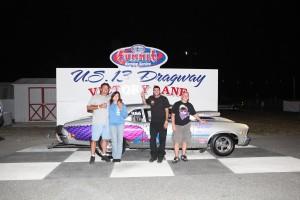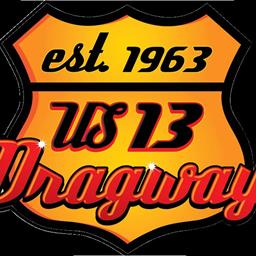 ---
BOBBY BLADEN CAPTURES FOOT BRAKE NATIONALS AT U.S. 13
By Charlie Brown, Delmar, DE (10/9/11) – The annual Foot Brake Nationals at the U.S. 13 provides an opportunity for drivers in both the Super Pro and Pro divisions to go head to head without the assistance of electronics. Sunday it was Bobby Bladen of Gambrills, Md. in his '70 Nova taking top honors. In the Combo class which allows electronics, it was the "Delaware Destroyer� Danny Bastianelli of Georgetown, Del. taking the win. Other winners on the day included Joe Stanley of East New Market, Md. in Pro Bike; Chuck Wayne of Millsboro, Del. in Street; D.J. Lockwood of Berlin, Md. in Bike Trophy; Brittany Hooper of Hurlock, Md. in Jr. Dragster 1 and Katie Bromwell of Seaford, Del. in Jr. Dragster 2.
In the Foot Brake final, it was Bobby Bladen up against Roger Ridgeway, Jr. of Dover, Del. in his '78 Mustang II. Ridgeway had a red light foul and Bladen made a full pass for the win with an 8.776/152.93 on an 8.77 dial. Semi-finalists were Steve Long of Linthicum, Md. who lost to Ridgeway and Richie Thurman of Seaford who lost to Bladen.
Danny Bastianelli faced Dale Smith in his '68 Camaro in the Combo final. Bastianelli had the better reaction with a .014 and took the win with a 7.543/166.54 on a 7.51 dial. Smith lost at the starting line with a .063 as he was on his dial with a 10.861/122.08 on a 10.86 dial. Semi-finalists were Frank Lecates of Salisbury who lost to Bastianelli and Larry Shorb of New Castle, Del. who lost to Smith. Laura-Lee Landry of Townsend, Del. won in the Quarter-final round but had mechanical problems and was done for the day.
Joe Stanley rode up against James Farmer of Denton, Md. in the Pro Bike final. Farmer broke out by one one-thousandth with an 8.649 on an 8.65 dial and Stanley took the win with a blistering 8.229/157.23 on an 8.20 dial. Semi-finalists were Marquise Blake of Bishopville, Md. who lost to Stanley and Brent English of Bloxom, Va. who lost to Farmer.
Chuck Wayne took the Street final over Adam Benton of Denton, Md. Benton red light foulded and Wayne ran an 11.809/113.42 on an 11.97 dial for the win. In Bike Trophy it was D.J. Lockwood over Harvey Powell of Salisbury. Rookard had the better reaction and took the win with a 9.747/142.33 on a 9.40 dial. Powell broke out with a 15.919/72.76 on a 15.97 dial.
In Jr. Dragster 1 it was Brittany Hooper paired against Alex Bradford of Newark, Md. Hooper had a .001 reaction light and drove to the win with a 13.017/49.71 on a 12.98 dial. Bradford ran a 9.167/70.36 on a 9.14 dial. In Jr. Dragster 2 it was Katie Bromwell taking on Robynn Powell of Salisbury. Powell had the better reaction but Bromwell was on her dial and took the win with a 7.910/82.67 on a 7.90 dial. Powell ran an 8.191/76.40 on an 8.15 dial.
This Sunday will be the E.T. Racing plus the "King of the Track.� Gates open at 10 a.m. with time runs at 11 a.m.
Back to News