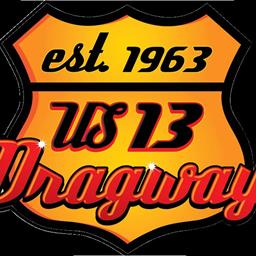 ---
"WILD CARDS� PROVIDE WILD FINISHES AT U.S. 13
By Charlie Brown, Delmar, DE (10/2/11) – It was "Wild Card� day at the U.S. 13 Dragway which allowed drivers that had purchased a wild card to play that card and remain in eliminations after a loss. Most of the drivers were able to save their wild cards to the final rounds providing a lot of late round racing. In the end, it was Vernon Russell, Sr. of Dover, Del. continuing his dream season with the win in Super Pro. Keith Mayers of Fruitland, Md. topped the Pro final while Brent English of Bloxom, Va. rode to the win in Pro Bike. Other winners on the day included: Gary Stickler of Delmar, Md. in Street; Mike Paolone of Salisbury, Md. in Bike Trophy; Ryan Jackson of Newark, Md. in Jr. Dragster 1 and Kody Mariner of Salisbury in Jr. Dragster 2.
The Super Pro final was anti-climatic as Russell was supposed to face Ben Parks of Salisbury. However, Parks had experienced mechanical problems following his Semi-final win and was unable to make it to the starting line for the final. Russell was able to stage and simply trip the lights to get the win. In the Semi-final Parks defeated Lou Pulice of Harrington, Del. for the second straight round. Parks had beaten Pulice in the Quarter-finals but Pulice played his wild card and went up against Parks once again while Russell earned the bye with his .004 reaction light in the Quarter-finals in defeating Veanetta Ennis of Pocomoke, Md.
The Pro final was a good matchup between local racers with Keith Mayers in his Chevy powered '85 Porche taking on Davied Hornsby of Delmar and his '70 Chevy Nova SS.  Hornsby was too quick and broke out with a 10.118/124.75 on a 10.19 dial. Mayers ran a 9.102/153.03 on a 9.08 dial-in for the win. Semi-finalist was Gary Owens of Georgetown, Del. who lost to Mayers while Hornsby had the bye.
In the Pro Bike final, Brent English rode up against Will Jenson of Dagsboro, Del. English had the better reaction and took the win with a 9.467/128.20 on a 9.40 dial. Jensen had an 11.024/129.01 on a 10.90 dial. Semi-finalist was Tony Mumford of Berlin, Md.
The Street final was a matchup between Gary Strickler of Delmar, Md. in his '78 Ford and Joe Schwartz of Winter Park, Fla. in his '72 Nova. Strickler took the double breakout win with a 13.863/96.92 on a 13.92 dial while Schwartz was out by more with a 12.891/104.11 on a 12.97 dial.
Mike Paolone rode up against David Semprit of Hebron, Md. in the Bike Trophy final. Semprit left early and fouled and Paolone took the win with a 14.350/74.20 on an 11.54 dial.
Ryan Jackson was paired against Michael Ennis of Delmar in the Jr. Dragster 1 final. Jackson had the better reaction and took the win with a 9.024/65.97 on an 8.90 dial. Ennis ran a 9.127/69.70 on an 8.97 dial. In Jr. Dragster 2 Kody Mariner met Robynn Powell of Salisbury. Mariner had the better reaction and took the win with a 7.952/81.46 on a 7.92 dial while Powell ran an 8.329/77.96 on an 8.16 dial.
This Sunday, Oct. 9th will be the Foot Brake Nationals plus E.T. Racing. Gates open at 10 a.m. with time runs at 11 a.m.
Back to News